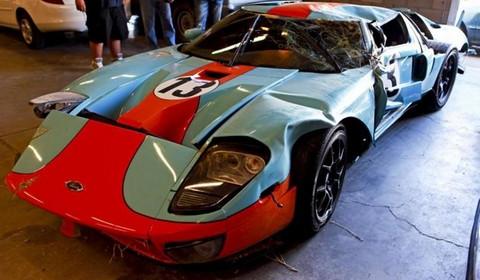 Once again we have to report about a supercar being demolished. It's tough to see what happened, because the car in question is a Gulf Ford GT Heritage Edition.
The car equipped with twin turbochargers belongs to Ray Hofman who brought his car to Bill Knobloch of Discovery Automotive to be tuned. After handing over the keys the Ford GT's life was sadly enough shortened.
Ray Hofman's story:
I received an email from Bill informing me that he was taking the car out on the road, but didn't hear back from him until the next day when he was informed of the supposedly "minor" crash. With little information to go by, I flew out to Los Angeles where Bill's garage is located and where the crash occurred. Arriving at the tow company, I immediately saw that his car suffered significantly more damage than he expected. Proceeding out to the scene of the crash with the tow truck driver (who allegedly described that stretch of highway as the local drag strip and the apparent driver as a "pilot"), I could see skid marks on the road and the broken trees as high as 30 feet in the air. The tow truck driver and me then surmised that Bill must have hit a tree on the side of the road, spun around 180 degrees, flown off the highway backwards, and struck another tree, which shattered the transaxle and pushed the engine through the bulkhead.
[Via Autoblog.com]