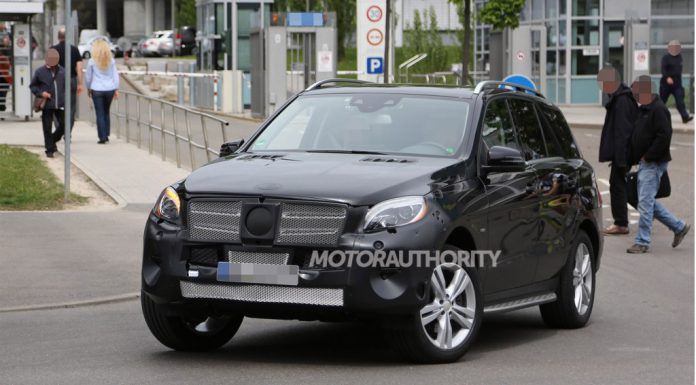 Mercedes-Benz is currently working on a facelifted variant of the M-Class and now a prototype has been spied testing with a host of blacked out features covering some inevitable design changes.
Pinned to be unveiled next year as a 2016 model, the new Mercedes-Benz M-Class will be quite overdue considering the current car has been around since 2011. From a visual standpoint, the 2016 M-Class will be clearly distinguishable from the current car thanks to redesigned headlights, a modified front bumper, exhaust, rear diffuser and rear bumper. One additional feature which we know will make an appearance in the new M-Class will be the German marque's latest dashboard design with the latest variation of the COMAND system.
Besides these changes, some fairly juicy upgrades on the engine side of things are pinned in. First off, the base Mercedes-Benz ML350 will features a 3.0-liter turbocharged V8 engine delivering 329 hp and 354 lb-ft of torque. Elsewhere in the line-up, the ML350 BlueTEC diesel will feature a small four-cylinder powertrain and Mercedes-Benz's new nine-speed auto 'box is also likely to feature on the 2016 Mercedes-Benz M-Class. As for the performance oriented models, the ML550 and ML 63 AMG, no engine changes are expected.
When the new M-Class hits the roads, it will also be joined by the long-awaited Mercedes-Benz MLC pinned to rival the BMW X6.
[Via Motor Authority]