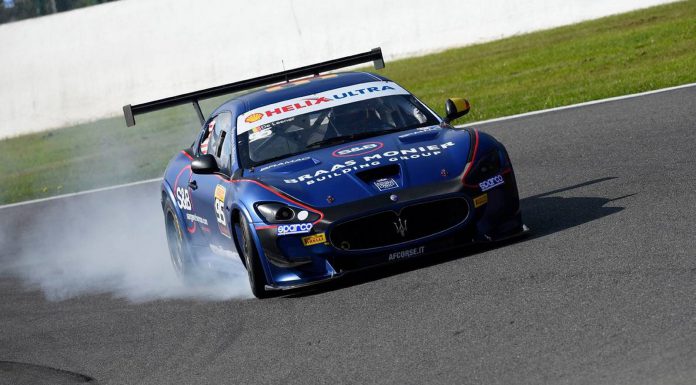 The 2014 Maserati Trofeo MC World Series kicked off this weekend at the Spa-Francorchamps, the first round of the season. The round had two races which were both dominated by the Swiss Team of Gabriele Gardel and Mauro Calamia. Racing in his hometown, Renaud Kuppens failed to take a victory after suffering a crash with Andrea Cecchellero that sent him to the barriers. He took pole for Race 2 but his car was damaged before the day's competition.
That left Gabriele Gardel in the lead during Race 1 and he ended up taking this win followed closely by Alan Simoni and Andrea Cecchellero in third. Calamia had started the race in pole but soon found himself running fourteenth. Nevertheless, before the end of the race he managed to climb up to fourth.
Race 2 was completely dominated by Calamia who led all the way from start to finish, while taking full advantage of the absence of Kuppens. After the end of the 50 minutes in Race 2, Alberto Cola and Gabriel Gardel finished in second and third respectively behind Calamia.
Quotes:
Mauro Calamia:
The day didn't start off too well following a clash in Race 1. I lost ground but then came back to fourth. Looking back, I can count myself lucky to have finished in the points. Things went better in Race 2 and I would like to thank my team for helping me to this win. I want more of the same in Hungary.
Gabriele Gardel:
This certainly is unexpected. It was my debut at Spa in a new car and I have come away with a win, a third spot and the lead overall. I couldn't ask for anymore. I would like to thank Maserati for allowing me the chance to compete in a fun and competitive series. I have to say that the GranTurismo MC Trofeo, which I drove in 2011, has really improved.
The next round will be at the Hungoraring on June 1st, this will be the same weekend when round 3 of DTM will take place.