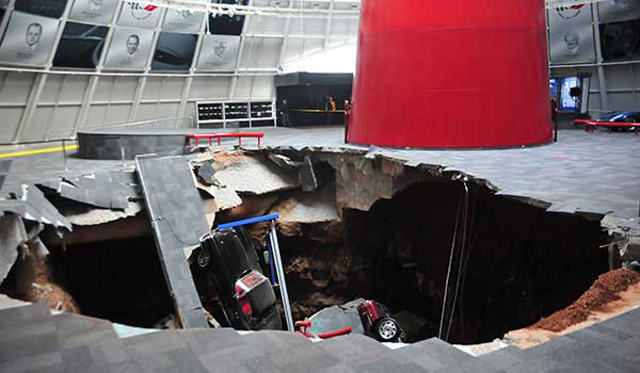 With all eight Chevrolet Corvettes now out of the sinkhole at the National Corvette Museum and all on display, the museum is seeing record numbers of visitors. As a matter of fact, in March, visitor numbers were up by 50 per cent with the cars now on display and the massive sinkhole open to the viewing public.
And this has triggered an interesting idea from the National Corvette Museum. There is a possibility the massive sinkhole will be preserved rather than filled in.
While speaking with CNN, Katie Frassinelli from the National Corvette Museum said, "There is a possibility of leaving it here. Whether, it's just a portion or all of it, having a bridge over it, stairs that go down in it, a glass floor on top where you can look down. We're talking to the construction company and engineers just to see the possibilities."
The cars which were swallowed and damaged include a 1993 ZR-1 Spyder on loan from GM, a 2009 ZR1 "Blue Devil" on loan from General Motors, as well as six other cars from the National Corvette Museum including a 1962 black Corvette, 1991 White 1 Millionth Corvette, 2009 1.5 Millionth commemorative Corvette and a 2001 Mallett Hammer Z06 Corvette.
Chevrolet believes that just four can be salvaged. The others will have to be rebuilt from the ground up.
[Via Autoblog]