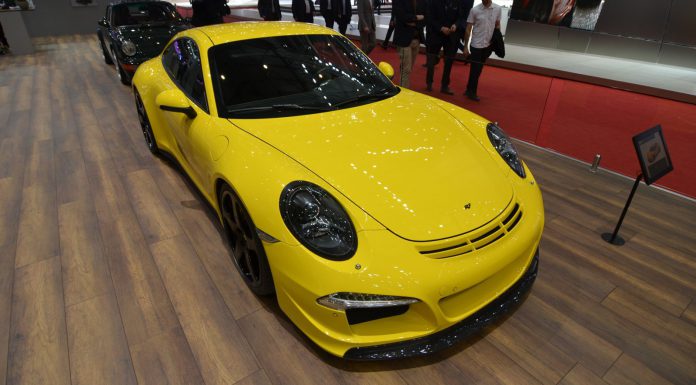 The Geneva Motor Show 2014 sees the revival of a legend for German manufacturer RUF. The RUF RCT was first introduced back in 1994. Incidentally, RUF also celebrates 37 years in business in 2014, not a bad milestone in all regards! We swung by the stand for a closer look.
The RUF RCT is notable in particular by its rear modifications. The RUF RCT name stands for "RUF Carrera Turbo". As such, this car features the twin-turbocharged 3.8 litre flat 6 engine. It produces figures of 525 hp at 6,800 rpm and a maximum torque 680 Nm arriving at 2.300 rpm.
The RUF RCT gets a rear mounted intercooler and the unique ducktail style rear wing is said to optimise downforce. RUF offer a rear-wheel drive as well as an all-wheel drive power train. Options also include an Integrated Roll Cage, custom suspension packages, as well as an enticing palette of bespoke colours.
It certainly looks very nice and we don't doubt that it performs too! Take a look at our coverage from the Geneva Motor Show 2014 so far by clicking through to our dedicated news channel.