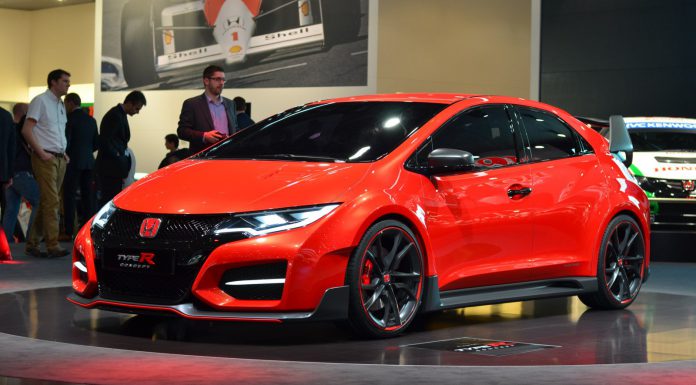 Unquestionably the highlight of the Honda booth at the Geneva Motor Show 2014 is the outlandish Honda Civic Type R Concept. Previewing the latest generation Civic Type R, don't let the 'Concept' in the name confuse you, this is very much a hot hatch ready for imminent production. We headed in for a closer look!
If you've followed the development of the latest Honda Civic Type R, you'll know that Honda was very open when it came to testing undisguised prototypes. However, the Honda Civic Type R Concept previews a number of styling traits not present on such prototypes ultimately pointing towards an even more aggressive car than we had ever hoped for.
Visually, the new Honda Civic Type R is about as aggressive as a hot hatch can be. At the front, it features the same standard design as the standard Honda Civic, however, includes brand new LED headlights, a black panel below the front grille as well as a large splitter stretching around to the front tyres. The car also features new sports wheels, new wing mirror caps and side skirts.
The most prominent change at the back of the concept compared to previous prototypes with it featuring a futuristic taillights design stretching along the massive rear wing. Additionally, the car features widened wheel arches up front and at the rear as well as an aggressive rear diffuser and quad exhaust pipes.
Under the hood, it is powered by a 2.0-liter four-cylinder turbocharged VTEC engine which Honda claims produces "over 280PS". As a result of this, Honda is confident the Civic Type R Concept can become the fastest front-wheel drive car around the Nurburgring.

If you want to read more about the Honda Civic Type R Concept, check out our previous article. Let us know what you think of the car in the comments box below. For full Geneva Motor Show 2014 coverage, check out our dedicated channel!