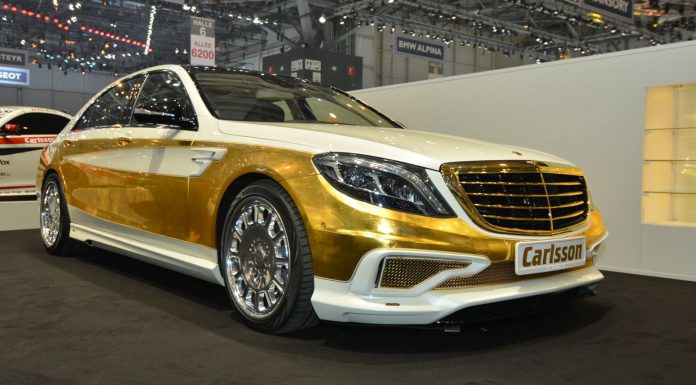 The Geneva Motor Show 2014 has its fair share of awesome tuning projects this year, including the new Carlsson CS50 Versailles. This might just be one of the most decadent and ostentatious cars we have ever seen.
"Pure gold finish inside and out. A tribute to the French aristocratic way of life. Limited edition of 25 cars with up to 700 hp", Carlssons own words used to describe a car that is the furthest thing from subtle we can think of! As you have probably noticed the Mercedes-Benz specialists have taken the new S-Class, and specifically adapted and developed it for China's ultra-wealthy 'Taipan' clients; "the new 'royalty' of the Middle Kingdom."
The CS50 Versailles features pure gold not just on the inside, but also on its exterior. Complete vehicles are priced from between €268,000 and €395.000 but that has not stopped 10 of the 25 cars that will ever be built being sold to existing customers of the company.
In a process that takes more than 200 man-hours, the bodywork of the Carlsson CS50 Versailles is lathered with more than 1,000 sheets of real wafer-thin gold leaf a process that involves no machines but just the intricate eyes of the Carlsson technicians. This is just the beginning of an elaborate process that takes over two-weeks complete, during which the bespoke clear-coat undergoes its labour intensive application, drying and sealing to ensure a unique and perfect finish whose practicality and durability is comparable to that of conventional paint.

You can read more details on the Carlsson CS50 Versailles in our official post here. Be sure to check out our dedicated Geneva Motor Show 2014 news, be sure to follow our dedicated news feed. Also, follow us on Facebook, Twitter and Instagram for exclusive live photos and behind the scenes updates.