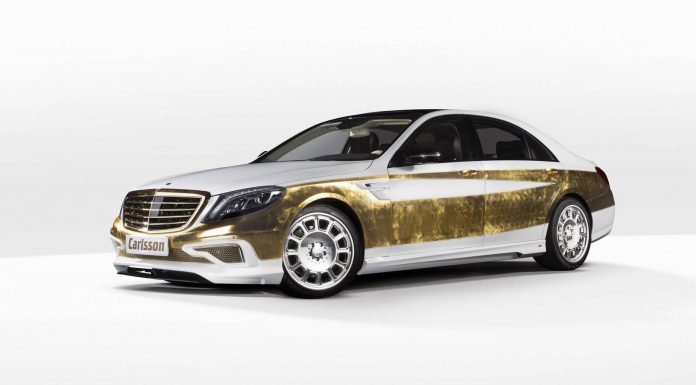 Welcome to the Carlsson CS50 Versailles, what may just be one of the most decadent and ostentatious cars we have ever seen. "Pure gold finish inside and out. A tribute to the French aristocratic way of life. Limited edition of 25 cars with up to 700 hp", Carlssons own words to describe a car that is the furthest thing from subtle we can think of! As you have probably noticed the Mercedes-Benz specialists have taken the new S-Class, and specifically adapted and developed it for China's ultra-wealthy 'Taipan' clients; what Carlsson describes as "the new 'royalty' of the Middle Kingdom."
The CS50 Versailles features pure gold not just on the inside, but also on its exterior. Complete vehicles are priced from between €268,000 and €395.000 but that has not stopped 10 of the 25 cars that will ever be built being sold to existing customers of the company before the car has even been unveiled at next weeks Geneva Motor Show.
In a process that takes more than 200 man-hours, the bodywork of the Carlsson CS50 Versailles is lathered with more than 1,000 sheets of real wafer-thin gold leaf a process that involves no machines but just the intricate eyes of the Carlsson technicians. This is just the beginning of an elaborate process that takes over two-weeks complete, during which the bespoke clear-coat undergoes its labour intensive application, drying and sealing to ensure a unique and perfect finish whose practicality and durability is comparable to that of conventional paint.
The gold clad bodywork does not end there. A further 278 interior and 30 exterior components receive a the golden touch, with exterior elements such as the trademark Mercedes-Benz radiator grille, door handles, and grille inserts in the front bumper left glistening with a rich golden shine.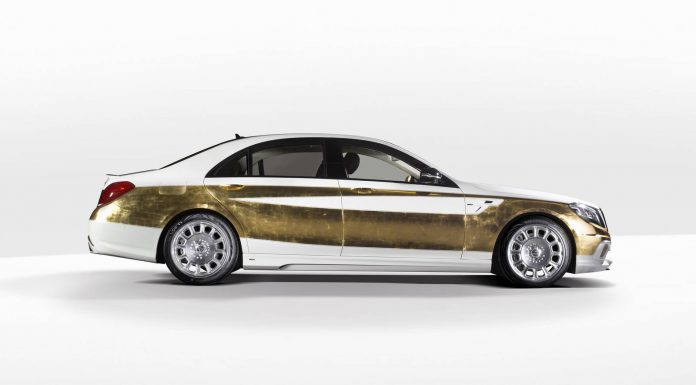 Think the exterior is special? Wait to you see the inside! In the plush cabin, various buttons, knobs, air vents and even the speaker grilles also take on a golden glow, forming an aesthetic symbiosis with the gold leaf covered frame, panels and trim inserts.

Of course it is not all show and no go. The flagship model of this exclusive range is the €395,000 Carlsson CS65 Versailles, that hides a V12 Bi-turbo engine produces 700hp and 1050 Nm of torque under its gleaming golden hood. The entry-level CS40, and mid-range CS50 use the V8 Bi-turbo engine. This is a car that has been built for the brave, those that want to be seen and noticed. This is a car that you certainly would not miss if it passed you on the street!