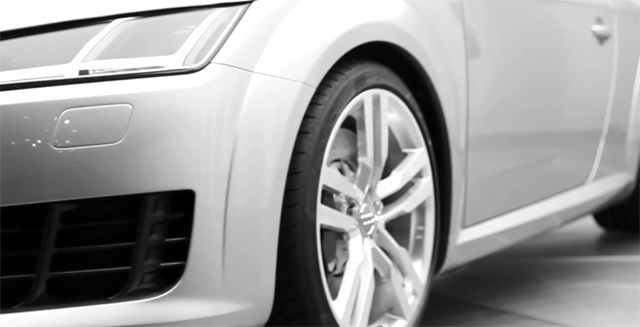 With the Geneva Motor Show 2014 just a few days away, Audi has exclusively shared the following teaser trailer of the brand new 2015 Audi TT sports car with us.
[youtube]http://youtu.be/Pkv8y-5rBPg[/youtube]
The short clip takes a clear look at the design of the 2015 Audi TT and gives us our very first official glimpse of the new TT with a completed example finished in silver being shown. The much more aggressive and angular design of the front end is previewed with it featuring the same headlight design recent official sketches showed.
Additionally, we can say that the 2015 Audi TT receives impressively flared wheel arches and sharper lines stretching across the doors. We can also see new cross drilled front brake discs as well as silver sports wheels.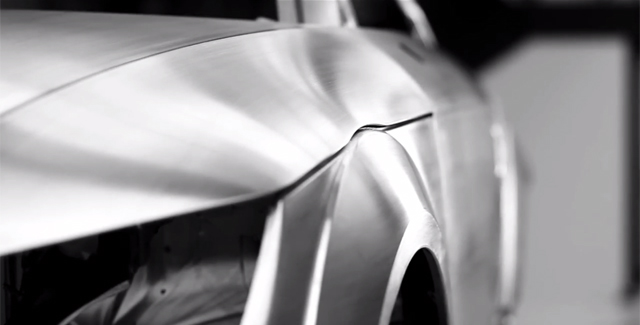 Not shown in this video but previewed in an official sketch, another key design change at the front end of the 2015 Audi TT is the repositioning of the Audi four-rings logo to now sit above the grille rather than on it like the previous-gen TT.

Under the hood, we expect to see a selection of different engines options just like the outgoing model. These could include an entry-level 1.8-liter TFSI powertrain delivering 180 hp, a 2.0-liter TFSI pumping out 220 hp and up to 300 hp in top-spec. Finally, a new Audi TT-RS is likely to appear down the line with an uprated five-cylinder turbocharged engine producing around 380 hp.
The 2015 Audi TT will celebrate its public debut on Tuesday at the Geneva Motor Show 2014. But make sure to follow GTspirit.com and our social media channels on Monday evening for the first live images from the exclusive preview at Volkswagen Group Night in Geneva.