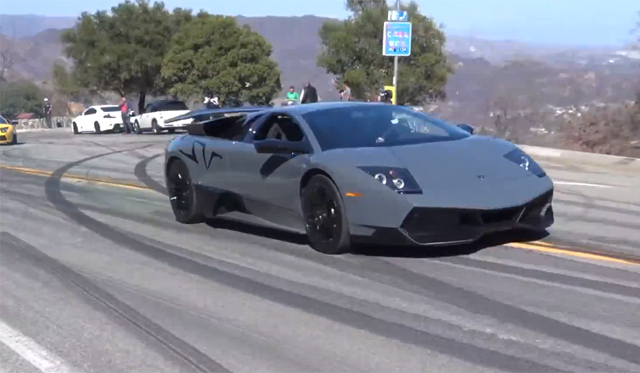 Even though the Lamborghini Murcielago LP670-4 SV was replaced by the Lamborghini Aventador a couple of years ago, the most extreme variant of the Murcielago still holds a special place in the hearts of Lamborghini enthusiasts.
[youtube]http://www.youtube.com/watch?v=7FARv0s8dOI[/youtube]
With its stripped out interior, new carbon fiber lightweight components such as a new front bumper and a massive optional rear wing, the Lamborghini Murcielago LP670-4 SV acted as the perfect send off for the Murcielago. In addition to these changes, its 6.5-liter V12 was tweaked by Lamborghini to produce 662 hp up from the standard 632 hp of the Murcielago LP640. As a result, Lamborghini claimed it could hit 100km/h in just 3.2 seconds when new. However, tests have seen times as low as 2.9 seconds.
A stunning grey Murcielago SV recently ventured out for a spirit cruise on Mulholland Drive and this video showcases it spinning the rear wheels under heavy acceleration before it storms off into the distance!