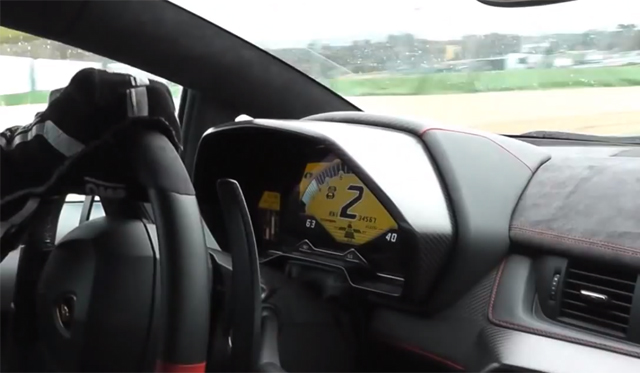 As we know, one of just four Lamborghini Venenos destined for the production line, recently headed out onto the Vallelunga Circuit in Spain alongside the also rare Lamborghini Sesto Elemento.
During the Venenos outing, some stunning shots were captured as were a few videos. Now, we have stumbled across this clip featuring the very first onboard ride inside the Lamborghini Veneno on the track and it is simply stunning!
[youtube]http://www.youtube.com/watch?v=LMoSXzM45hU#t=24[/youtube]
With that being said, the music added into the clip when the Venenos is on track gets quite tedious as we'd love to hear nothing more than its screaming 6.5-liter V12 engine. Nevertheless, it sounds just as amazing as you'd expect even though the driver is nowhere near reaching the supercar's limits!
With a maximum output of 750 hp, the Veneno accelerates from 0 to 100 km/h in just 2.8 seconds and the top speed for this street-legal racing car stands at 355 km/h. The Lamborghini Veneno features a twelve-cylinder power unit with a displacement of 6.5 liters, an extremely fast-shifting 7-speed ISR transmission with 5 driving modes and permanent all-wheel drive, as well as a racing chassis with pushrod suspension and horizontal spring/damper units.
Above all, however, the Veneno benefits from the very special expertise that Automobili Lamborghini possesses in the development and execution of carbon-fiber materials – the complete chassis is produced as a CFRP monocoque, as is the outer skin of this extreme sports car. The inside, too, features innovative, Lamborghini-patented materials such as Forged Composite and CarbonSkin.