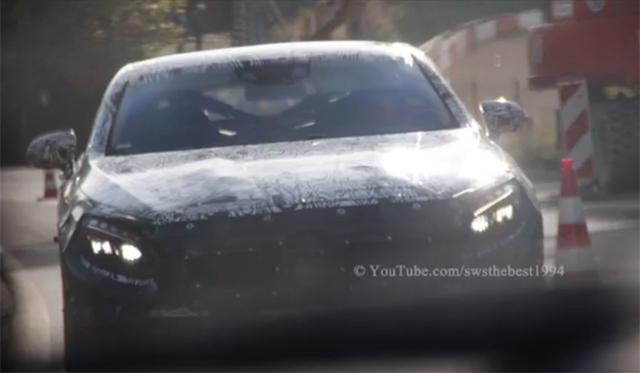 So it is no secret that a Mercedes-Benz S63 AMG Coupe is in the works. Up until now, numerous prototypes have been spotted however, this is the very first video of the car thus far.
This particular prototype can be distinguished from other Mercedes-Benz S-Class Coupe prototypes recently spotted with it including redesigned front air intakes, a more aggressive front bumper, AMG-style wheels and the awesome rectangular AMG tailpipes.
[youtube]http://www.youtube.com/watch?v=OJjlAMmcd7U#t=44[/youtube]
It's believed that the Mercedes-Benz S63 AMG Coupe will feature the same 5.5-litre V8 biturbo engine as the sedan. Power will likely be pegged at an equal 585 hp with torque of 900 Nm. In the standard S63 AMG, drive can be optioned with the AMG all-wheel-drive system 4MATIC or kept standard with a more traditional rear wheel drive setup. We expect the same options for the coupe. Acceleration from 0 to 100 km/h of the sedan takes 4.0 to 4.4 seconds, depending on model variant, and the top speed is 250 km/h (which is electronically limited).
Mercedes-Benz S-Class Coupe Concept

It is currently believed that the 2014 Mercedes-Benz S63 AMG Coupe will serve as a direct replacement for the Mercedes-Benz CL63 AMG which also features the same 5.5-liter bi-turbo V8 engine.
Throughout this video, the prototype's LED taillights can be seen in full operation which is a nice little teaser before the car is official released whenever that may be.