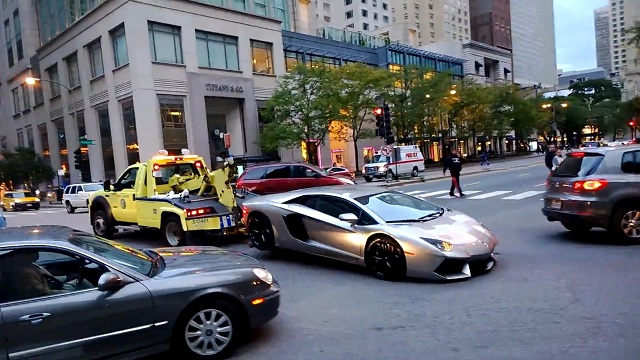 Lamborghini Aventador's are known to draw massive crowds that are attracted by the cars aggressive look and spectacular exhaust note. This Aventador is causing a scene for a very different reason. As you can see from the video below, this Italian Bull in Chicago is being towed away for parking in a no-parking zone and as a result is hitching a ride with a less exotic vehicle.
The Aventador, finished in the same color as Bruce Wayne's daily driver, is brand new, barely a couple of months old. The owner must not have been too pleased when he/she returned to find an empty space where their V12 supercar was illegally parked.
[youtube]http://youtu.be/P4RF5oGjWR8[/youtube]
The Aventador looks very uncomfortable being towed, its sculpted carbon fiber nose seems perilously close to the tarmac. The Aventador has a new 6.5 liter V12 engine that produces 700hp at 8,250rpm and 690Nm at 5,500rpm. Using thrust mode – Lamborghini's version of launch control – allows you to reach 100km/h in less than three seconds, 2.9 to be precise and 0-200km/h is done in a staggering 8.9 seconds flat. In the right environment you will keep accelerating all the way up to 351km/h!