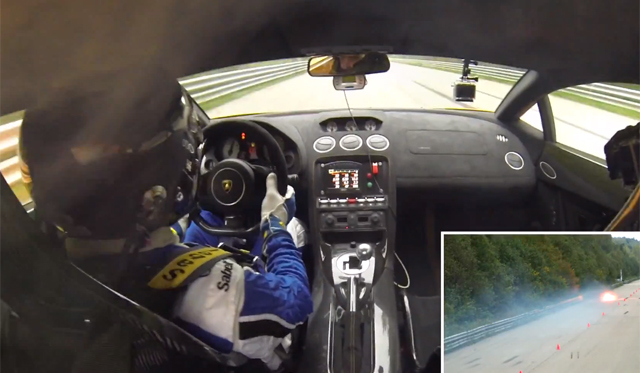 A few weeks ago, a video emerged showing this insane 2005hp Lamborghini Gallardo catching fire at over 400km/h when crossing the one mile mark at the Unlim500+ drag race. Well, now an intense onboard video of the incident has been released, and it's both thrilling and a little bit scary.
[youtube]http://www.youtube.com/watch?v=Zs1VXXsUJao#t=117[/youtube]
As soon as the car crosses the finish line, smoke begins to flood the cabin and the driver is left to undo his harness while still moving and trying to change down gears. He then quickly jumps out of the car not knowing the true severity of the fire. As it turns out, the blaze wasn't all that extensive. Nevertheless, if we were in the same position, we'd probably run away from the flaming Italian supercar as well!
It's currently unknown what caused the fire, but some costly repairs were inevitably needed.