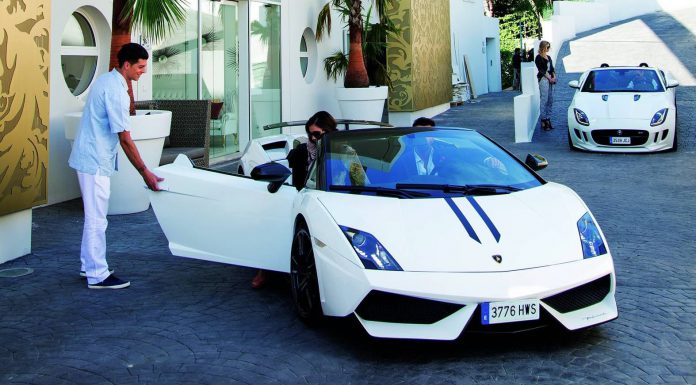 The Portals Hills Boutique Hotel in Mallorca, Spain, is offering its guests the opportunity to rent a white Lamborghini Gallardo LP570-4 Spyder Performant for a day.
In order to get their hands on the supercar, the customers will have to opt for the exclusive three-night package offered by the hotel. The package, which starts at €3,090 per person, also includes limousine shuttle from the airport and stay in a stunning Fendi-furnished penthouse.
The latter gives a remarkable view of the Mediterranean Sea and its decor features materials like velvet, leather and Carrara marble. The penthouse also has a balcony and a rooftop terrace.
The Gallardo offered can be driven for maximum of 200 km and an insurance deposit of €2,000 will have to be made by credit card. The driver must be at least 25 years of age or have minimum of two years of experience on his driving license. The hotel will give the driver a map of the best roads around Mallorca where he can utilise the potential of the vehicle.
The Gallardo is powered by a 5.2-litre V10 engine that produces 562 hp and 540 Nm of torque. It can reach 0 to 100 km/h in 3.9 seconds with an electronically limited top speed of 324 km/h. Thus it's safe to say that whoever gets to drive the supercar will have plenty of power and speed to toy around with on some of the most beautiful roads in Mallorca.
For more information, click here.