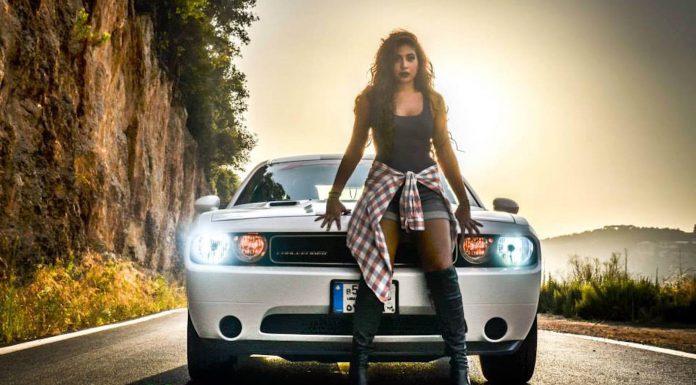 Our latest edition of 'Cars and Girls' comes courtesy of K8 Car Photography and features Marie Najjar along with a Dodge Challenger.
The photo-shoot took place in Lebanon at a newly constructed road between Shaile and Daroun-Harissa in the mountain regions of the country. It was the first of its kind in Lebanon and the pictures follow a story which you can read through the captions in the Facebook album. The main focus is on the model, Marie, who prefers her car to her boyfriend. The shoot was held on 10 August at around 6 pm and thus, the photographer was able to get the stunning sunset backdrop.
The car is a 2013 model of the Challenger owned by Marie. The white exterior paint with purple and red stripes running through the centre and the black wheels give the Challenger a very robust look. It is powered by a 3.6-litre V6 engine that produces 305 hp. The power is transferred to the rear wheels of the car via a 5-speed automatic gearbox.
The third generation Challenger has been fitted with a Magnaflow exhaust system and was recently tuned by Diablo Sport. Meanwhile, its rear wing has been installed by Spoiler Centre.
[Via K8 Car Photography]