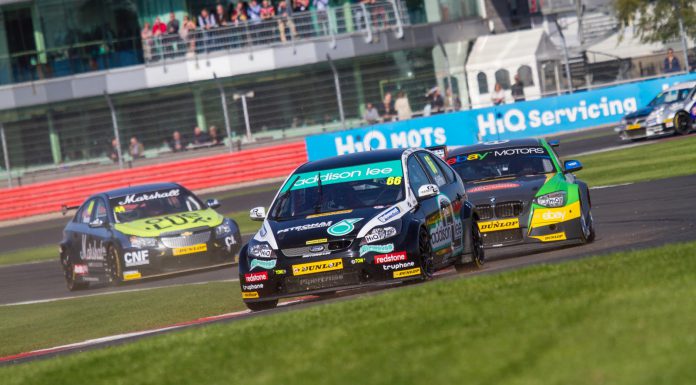 As the season is drawing to a close the BTCC championship has entered its penultimate round at Silverstone 28-29th September 2013. Before the start of the three-race weekend, the championship had already been all but won by Andrew Jordan who was thirty points ahead of Gordon Shedden
MG Rover dominated throughout the first two races with Jason Plato taking wins in both races. Plato's team mate Tordoff finished second in race one and fourth in race two. Plato took pole position in both races and for race three the reverse grid saw Matt Neal in his Honda Civic take the final Pole position. It was however his team mate Gordon Shedden who took the final victory of the weekend. This victory gives Shedden a slight glimmer of hope that he can still fight for the championship at the final round.
All races saw crashes, retirements and bumper touching racing. In Race one Will Bratt's Audi had to complete part of a lap with his bonnet over his windscreen. Lea Wood took a hat trick of wins in the Jack Sears Trophy, which he had already wrapped up the championship in the last round at Rockingham.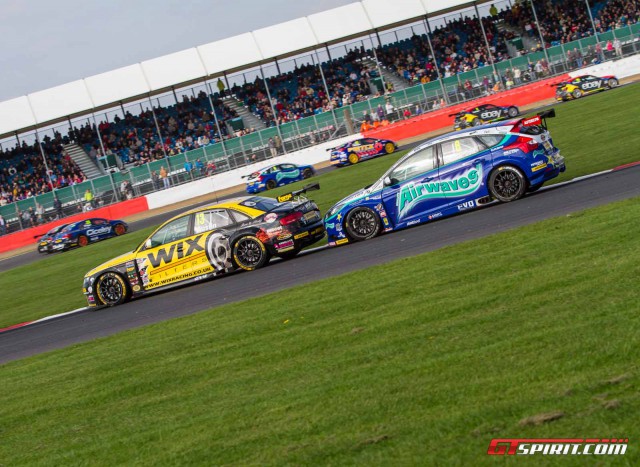 The Final round will be held at Brands Hatch on 12-13th October 2013 and it will see Andrew Jordan Defend his current Championship lead of 34 points ahead of Matt Neal and Gordon Shedden who is 35 points behind. Colin Turkington is in fourth 48 points behind closely followed by Jason Plato who is 49 points behind. Jordan will have to compete against four former championship winners and the showdown should see sparks fly.
Our Photographer Steven Roe was in attendance at the race weekend and took some stunning shots of the cars competing in the championship. Including Honda Civic's, MG6 BMW 125I and Audi A4's. Rob Austin who features in the new film Rush headed out onto track in the car he rides in the film.
Jason Plato said:
"We've hit the spot before but we've made mistakes or things have gone wrong. Today the MG is definitely in the zone and we've got to be looking to score as many points as possible. The championship isn't over until it's over but we need to have an epic end to the year."
Race One results
1 Jason Plato (MG KX Momentum Racing) 25 Laps
2 Sam Tordoff (MG KX Momentum Racing) +1.477
3 Matt Neal (Honda Yuasa Racing) +6.072
4 Colin Turkington (eBay Motors) +6.080
5 Robert Collard (eBay Motors) +6.453
6 Andrew Jordan (Pirtek Racing) +7.114
7 Adam Morgan (Ciceley Racing) +7.511
8 Aron Smith (Airwaves Racing) +8.206
9 Mat Jackson (Airwaves Racing) +8.494
10 Dave Newsham (Speedworks Motorsport) +9.227
11 Gordon Shedden (Honda Yuasa Racing) +13.243
12 Rob Austin (WIX Racing) +13.398
13 Daniel Welch (Welch Motorsport with Sopp + Sopp) +14.092
14 Frank Wrathall (Dynojet) +14.381
15 Tom Onslow-Cole (Airwaves Racing) +14.732
16 Warren Scott (Team BMR Restart) +19.698
17 Howard Fuller (RCIB Insurance Racing) +22.463
18 Jeff Smith (Pirtek Racing) +30.327
19 Ollie Jackson (Speedworks Motorsport) +30.475
20 Lea Wood (Wheel Heaven/Houseman Racing) +32.789
21 Aiden Moffat (PPCGB/Kraftwerk Racing) +33.068
22 Will Bratt (Rob Austin Racing) +1 Lap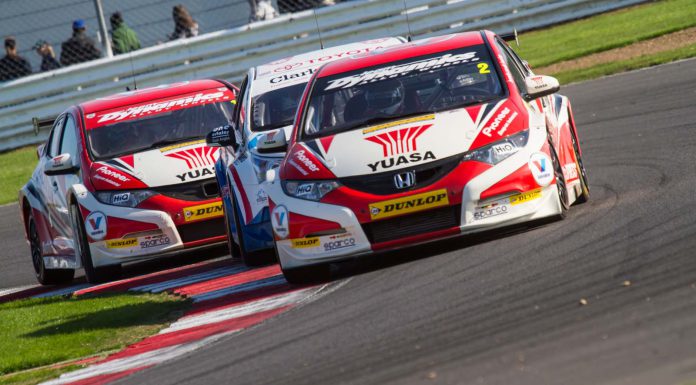 Race Two results
1 Jason Plato (MG KX Momentum Racing) 25 Laps
2 Andrew Jordan (Pirtek Racing) +0.244
3 Aron Smith (Airwaves Racing) +0.410
4 Sam Tordoff (MG KX Momentum Racing) +2.064
5 Colin Turkington (eBay Motors) +4.818
6 Matt Neal (Honda Yuasa Racing) +7.314
7 Gordon Shedden (Honda Yuasa Racing) +7.525
8 Dave Newsham (Speedworks Motorsport) +7.780
9 Daniel Welch (Welch Motorsport with Sopp + Sopp) +9.626
10 Mat Jackson (Airwaves Racing) +12.553
11 Howard Fuller (RCIB Insurance Racing) +17.858
12 Will Bratt (Rob Austin Racing) +20.537
13 Nick Foster (eBay Motors) +21.038
14 Aiden Moffat (PPCGB/Kraftwerk Racing) +24.925
15 Jack Goff (RCIB Insurance Racing) +29.899
16 Lea Wood (Wheel Heaven/Houseman Racing) +32.937
17 Andy Neate (Team Club 44) +38.057
Race Three results
1 Gordon Shedden (Honda Yuasa Racing) 23 Laps
2 Aron Smith (Airwaves Racing) +2.045
3 Matt Neal (Honda Yuasa Racing) +3.710
4 Mat Jackson (Airwaves Racing) +4.935
5 Andrew Jordan (Pirtek Racing) +5.647
6 Dave Newsham (Speedworks Motorsport) +5.920
7 Jason Plato (MG KX Momentum Racing) +6.412
8 Adam Morgan (Ciceley Racing) +6.737
9 Jack Goff (RCIB Insurance Racing) +7.241
10 Daniel Welch (Welch Motorsport with Sopp + Sopp) +7.581
11 Nick Foster (eBay Motors) +7.856
12 Robert Collard (eBay Motors) +8.009
13 Tom Onslow-Cole (Airwaves Racing) +8.378
14 Sam Tordoff (MG KX Momentum Racing) +11.101
15 Howard Fuller (RCIB Insurance Racing) +14.761
16 Warren Scott (Team BMR Restart) +15.904
17 Rob Austin (WIX Racing) +16.484
18 Andy Neate (Team Club 44) +18.241
19 Aiden Moffat (PPCGB/Kraftwerk Racing) +20.171
20 Lea Wood (Wheel Heaven'Houseman Racing) +27.278