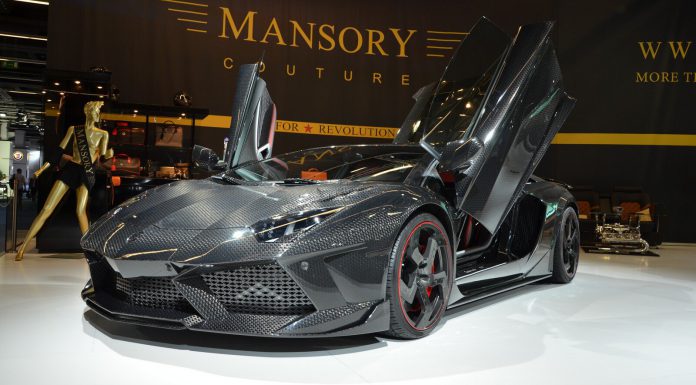 Mansory have built a second Mansory Carbonado which is also on display at the IAA Frankfurt Motor Show 2013. The Mansory Carbonado is of course a bespoke Lamborghini Aventador with every panel replaced with a high quality stealth weave panel. The look is as sinister as it gets. The last version we saw had a matte finish whereas this latest version has a gloss covering!
The design includes striking air intakes at the front, a new front spoiler, a front lip and daytime running lights. The sides feature a new set of side skirts, larger wheel arches which increase the front by 40 mm and the rear by 50 mm. To finish off the design, the rear diffuser and the rear spoiler have been redesigned too.
The Mansory Carbonado gets two new Mansory turbochargers fitted to a 6.5 litre V12 engine. The pistons, connecting rods, rod bearings, crankshaft, crank and cylinder head have all been replaced with new stronger parts. The Mansory Carbonado now has a stunning 1250 hp instead of the serial 700 hp. The newly designed exhaust system with stainless steel tailpipes gives it a unique sound. Performance from naught to 100 km/h is improved with a total time of just 2.6 seconds and a top speed of 380km/h! Torque has had to remain limited to 900 Nm.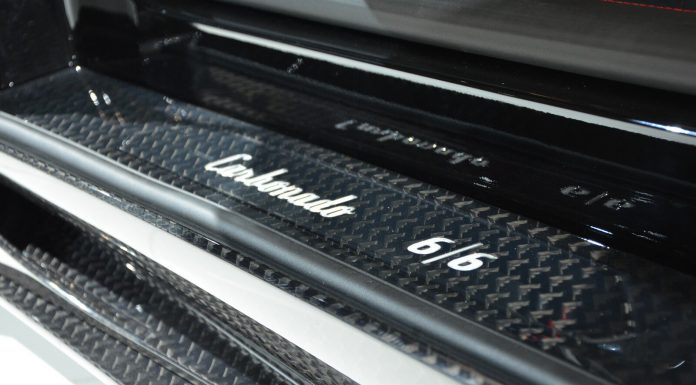 If you want to find out more, take a look at our earlier Mansory Carbonado articles! Remember to also check out its topless sister, the Mansory Carbonado Roadster.