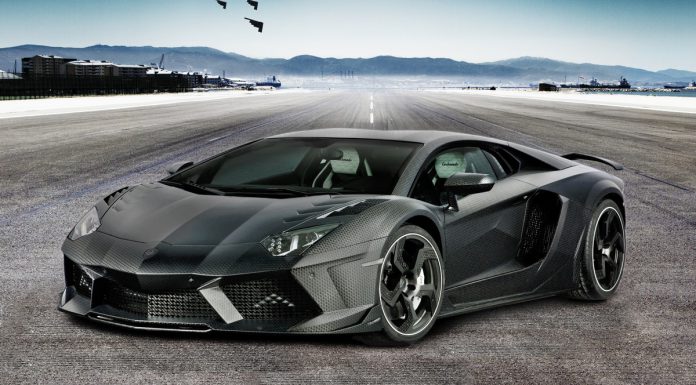 Mansory has revealed its new tuning program, the Mansory Carbonado based on the Lamborghini Aventador LP700-4, which is set to debut at the Geneva Motor Show 2013. Just like the name suggests, a carbon fiber weave with a stealth-look was used. New features include the striking skirt with the optimized air intakes for improved ventilation of the front radiator. The front wing, as well as the bonnet will be exchanged and replaced by proprietary developments.
The new package has seen the sides grow by 40 millimeters on the front and by a remarkable 50 millimeters on the rear axle in width. The newly designed side skirts help steady the air flow between the axles and feed additional cooling air into the drive unit and the rear braking system through integrated routing channels. The diffuser built into the new rear spoiler stabilizes the rear at high speeds and creates surface contact pressure together with the enlarged rear wing on the rear axle. The body styling kit is completed by the replacement of the roof and engine compartment cover by all-carbon elements.
The powerhouse has also received new treatment, these are two new Mansory turbochargers added to the 6.5 litre V12 cylinder. The pistons, connecting rods, rod bearings, crankshaft, crank and cylinder head have been replaced by motor racing parts and now meet the high demands of Kourosh Mansory. The Mansory Carbonado now has a stunning 1250HP instead of the 700HP from the factory car, thanks also to the newly designed exhaust system from the manifold right up to the stainless steel tailpipes.
Higher power means the performance has increased too, while the maximum electronically-limited torque increases to 690 Nm, the bi-turbo V12 sprints from naught to 100km/h in just 2.6 seconds and a top speed of 380km/h! Mansory recommends a tire and wheel combination consisting of their ultra-light forged rims with carbon fiber inlays with 9.0 x 20 and 13.0 x 21 dimensions wrapped with Pirelli P ZERO tires in VA 255/30 ZR20 and HA 345/25 ZR21 sizes.

The interior is nothing short of what Mansory has offered over the years, durable processed leather is used for the seats as well as the dashboard, and then there are the non-slip aluminum pedals as well as genuine carbon fiber used on the doors, the fittings and the center console. The cockpit is aircraft styled starting with the newly positioned starter button is relocated from the center console to the roof lining.