Audi has once again raised the Audi Sport Quattro badge for the IAA Frankfurt Motor Show 2013. We saw an Audi Quattro Concept back in 2010 at the Paris Motor Show 2010. Back then, the car was based on the platform of the Audi RS5, with a 2.5 litre engine and 408 hp. The Audi Sport Quattro Concept brings the Quattro moniker back with the power and performance it deserves!
The Audi Sport Quattro Concept is built as a plug-in performance hybrid developing 700 hp and 590 lb-ft of torque. 560 hp will come from a twin-turbo V8 with the remaining 140 hp from the electric motor. It gets a modified eight-speed tiptronic transmission to put that power to the ground. Despite a 1,850 kg total weight, the Audi Sport Quattro Concept takes 3.7 seconds to reach 60 mph, on the way to a top speed of 189 mph.
Much of the styling inspiration was taken from the original Quattro built back in the 1980s. The rally version of that car went on to many victories in WRC as well as the 1987 Pikes Peak hill climb at the hands of Walter Röhrl.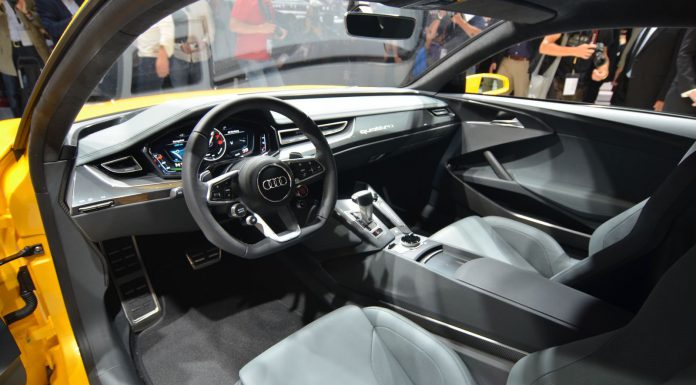 If you want to find out more about the Audi Sport Quattro Concept then read our earlier article.