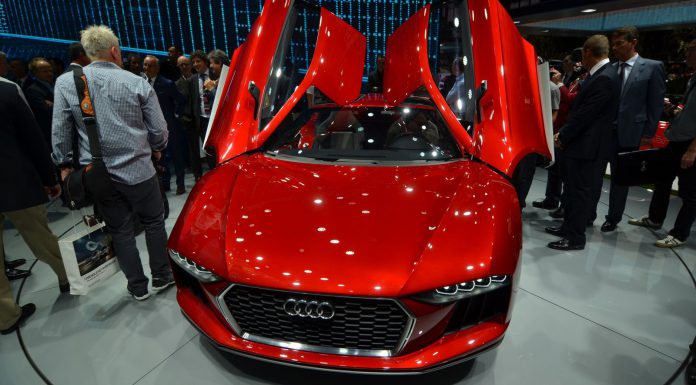 Audi have an interesting concept on display at their IAA Frankfurt Motor Show 2013 pavilion. The Audi Nanuk Quattro Concept has been developed in collaboration with designers from Italdesign Giugiaro. It is a crossover-supercar concept that Audi say, is "equally at home on the race track, the highway or a winding country road as it is off-road in the sand or in the snow". We took a closer look.
The two-seater concept is powered by a brand new V10 TDI engine installed in the middle of the car. It's output is 5.0-liters and power is rated at 544 hp with a 1,000 Nm of torque to the crankshaft from just 1,500 rpm. It features a twin-turbocharger controlled via the Audi valvelift system (AVS). A strengthened seven-speed S tronic gearbox routes the power to a specially designed quattro drivetrain.
The car sits on a load-bearing body structure constructed from an aluminum Audi Space Frame (ASF). Body components are made of carbon fiber-reinforced polymer (CFRP) and are finished in Extreme Red. Physically, the car looks like a jacked up sportscar, with blend of aggressive styling and a high ride height. One interesting feature is that the doors open upward at an angle.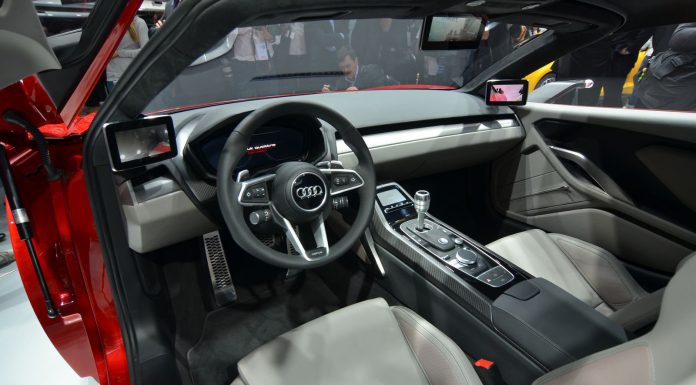 Largely, the Audi Nanuk Quattro Concept previews a number of key technologies set to reach production Audi's in the near future. For more details on what those technologies are, take a look at our earlier Audi Nanuk Quattro Concept post.