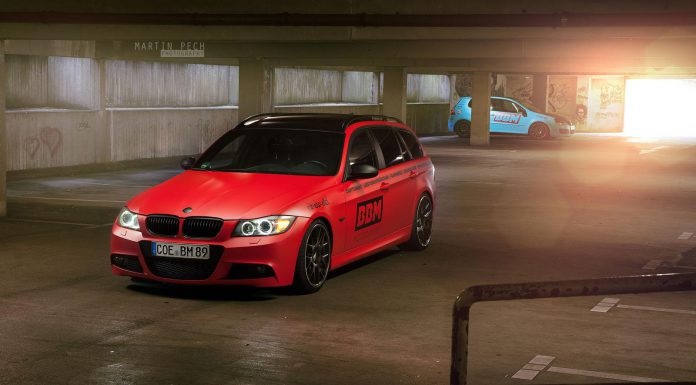 While a car such as the BMW 330d Touring may not generally receive much attention hear at GTspirit, the following example courtesy of BBM Motorsport is utterly insane, predominantly due to its impressive torque output.
Generally speaking diesel powered cars have loads of torque, and the BMW 3-Series Touring by BBM Motorsport is no exception to that. Featuring an optimised ECU, Supersprint sports exhaust system and a Pipercross air filter, the BMW 3-Series Touring by BBM Motorsport delivers 274hp and wait for it, 633lb-ft of torque! That equates to an increase of 250lb-ft over the regular car and consequently puts the BMW 330d Touring by BBM Motorsport well above the torque figures produced by cars such as the Lamborghini Aventador and the 730hp Ferrari F12 Berlinetta!
Joining that upgraded engine are a selection of rather minor visual changes consisting of a matte red wrap, 19-inch BBS alloy wheels and a gloss black front grille. The BMW 330d Touring by BBM Motorsport then features KW Street Comfort coilover suspension.
BBM Motorsport then turned their attention towards spec'ing out the interior, and while the changes are only minor, they do help to separate this BMW 330d Touring from the standard car even further. They include a "digital speed display system" as well as a system that automatically ejects the key when the engine is turned off via the button.