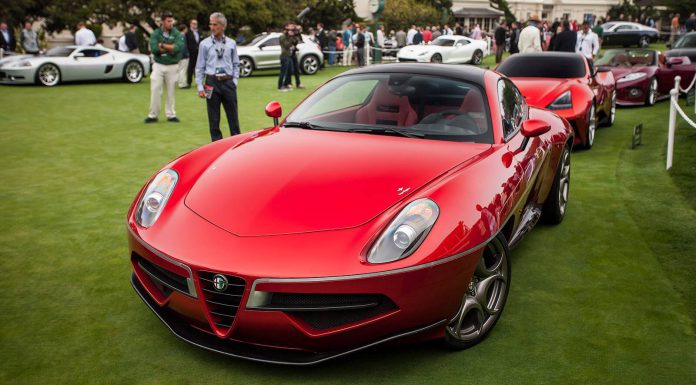 The Touring Superleggera Disco Volante is at Pebble Beach 2013! It seems to make its way to all the top events. We first saw it back at the Geneva Motor Show 2012 and it still looks every bit as interesting as it di back then. We sent Philipp Lohmann for a closer look!
The Disco Volante, now in production form, is based on the Alfa Romeo 8C Competizione. Clients can expect a similarly tuned front-engined V8 configuration as the 8C. Power output is reported at 450hp and 480 Nm of torque at 4750 rpm.
Rather than a manual gearbox, Touring Superleggera have opted for an electroactuated 6-speed sequential shift box. 100 kph will come up in just over 4 seconds, with a top speed of 292 kph; numbers that are very similar to the 8C on whose chassis it is based. Exterior design has always been a strong point of the Disco Volante. Head of Design, Louis de Fabribeckers wanted to celebrate the "myth of the 1952 style icon." We're not quite sure what that means, but the end results speaks for itself. It is a seriously good looking car.