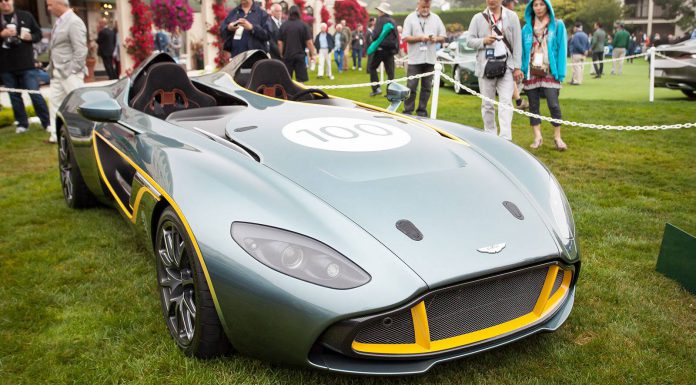 As far as we can tell, this is the first time that the Aston Martin CC100 has stepped across the pond. It is on display at Pebble Beach 2013 and has been attracting a fair amount of attention from show-goers! We sent our photographer Philipp Lohmann in for a closer look.
The Aston Martin CC100 Speedster Concept features the new AM11 engine. Its is a 6.0 liter V12 engine that does a limited top speed of 180mph and 0-100km/h in less than 5 seconds. It is fitted with a six-speed hydraulically actuated automated sequential manual transmission, controlled via steering column-mounted paddle shifts.
The Speedster pays homage to Aston Martin's historic Le Mans winning DBR1 sports car. The car competed in 18 races and won 8 of them thanks to the 2.5 litre and 2.9 litre straight six engine at the time. The CC100 Concept features the same iconic styling. Even the colour, green with a yellow accent, harks back to the classic racer.