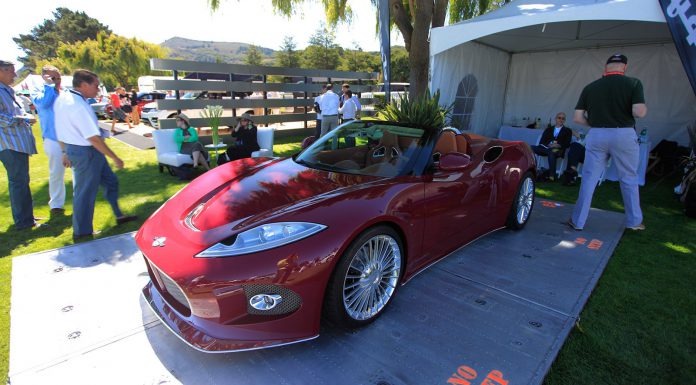 Just after Spyker took the wraps off the stunning Spyker B6 Venator Spyder Concept at The Quail gathering during Monterey Car Week 2013, Victor Muller has confirmed the car should hit the production line late next year.
More specifically, production of the Spyker B6 Venator Spyder should get underway in November, 2014 for a price of around $150,000. By comparison, Spyker hopes to put the coupe version of the B6 Venator into production for $140,000. Either way, it'll be significantly cheap than Spykers of the past and will hopefully help the company stay afloat better this time.
As with all Spyker projects, the devil is in the detail. The design is typical of the Dutch brand. It gets a 2-door mid-engine setup with plenty of aviation influence. The grille features the typical Spyker circular opening and the fairings feature the axiom "Nulla tenaci invia est via" – which translates to "For the tenacious no road is impassable".
Perhaps the most eye catching feature is the 3D LED rear lights which Spyker describes as being akin to the iris-type after burners of a jet engine from a modern fighter aircraft. The rear brake light extends the entire width of the rear facia giving the Spyder Concept a unique look. All body panels are constructed from carbon fibre.
Underneath the Spyker extravagance, owners will get an all-aluminium chassis. The engine is a transverse mounted V6 producing 375hp to the rear wheels via a 6-speed semi-automatic gearbox. Overall, the B6 Venator Spyder concept weighs in at 1400 kg.
[Via Autoblog]