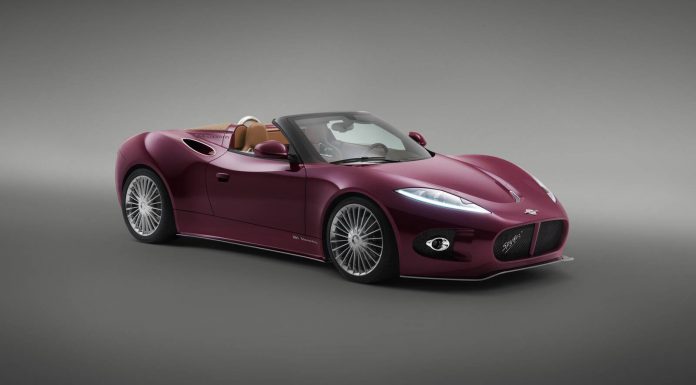 After blasting back into the mainstream media with the B6 Venator Concept back in March at the Geneva Motor Show 2013, Spyker have once again made a splash at Monterey Car Week 2013. The car they have chosen to bring is the Spyker B6 Venator Spyder Concept which is based upon the discontinued Artega GT platform. It receives an official unveil just five months after the B6 Venator Coupe Concept.
As with all Spyker projects, the devil is in the detail. The design is typical of the Dutch brand. It gets a 2-door mid-engine setup with plenty of aviation influence. The grille features the typical Spyker circular opening and the fairings feature the axiom "Nulla tenaci invia est via" – which translates to "For the tenacious no road is impassable".
Perhaps the most eye catching feature is the 3D LED rear lights which Spyker describes as being akin to the iris-type after burners of a jet engine from a modern fighter aircraft. The rear brake light extends the entire width of the rear facia giving the Spyder Concept a unique look. All body panels are constructed from carbon fibre.
Inside, there is plenty of quilted leather sourced from the Litano range produced by the Royal Hulshof Dutch Tanneries in Lichtenvoorde, Netherlands. The ignition switch has a red cover as you would expect to find on an aeroplane.
Underneath the Spyker extravagance, owners will get an all-aluminium chassis. The engine is a transverse mounted V6 producing 375hp to the rear wheels via a 6-speed semi automatic gearbox. Overall, the B6 Venator Spyder concept weighs in at 1400 kg.
You should be able to see the Spyker B6 Venator Spyder Concept at The Quail Motorsport Gathering and at Pebble Beach over the weekend!