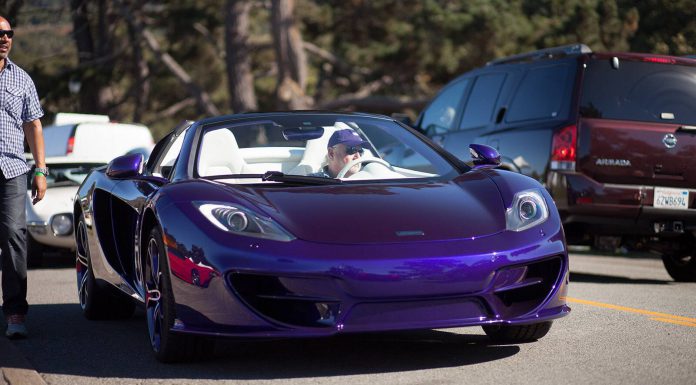 McLaren's presence at Monterey Car Week 2013 is less profound than it was last year. However, they are still using the event to display their latest and greatest. We have heard rumours that a McLaren P1 has been spotted, whilst we don't yet have photos of that car to share with you, we do have photos of the metallic purple McLaren 12C Spider being displayed by MSO.
The changes over the standard 12C Spider are subtle, yet they are very clear. The bespoke metallic purple is unique to this car, it covers the MSO front bumper which is usually a naked carbon fibre piece. The interior is an interesting shade of cream too. Other than the above features, the rest remains as standard. This car doesn't get the fender vents or the rear bumper.
Underneath, mechanicals remain unchanged from the McLaren MP4-12C which means the X-1 features a 3.8 liter V8 bi-turbo aluminum with variable valve timing and 625hp. Maximum torque is 600Nm between 3,000 and 7,000rpm. For full details on the McLaren X-1 follow the embedded link.