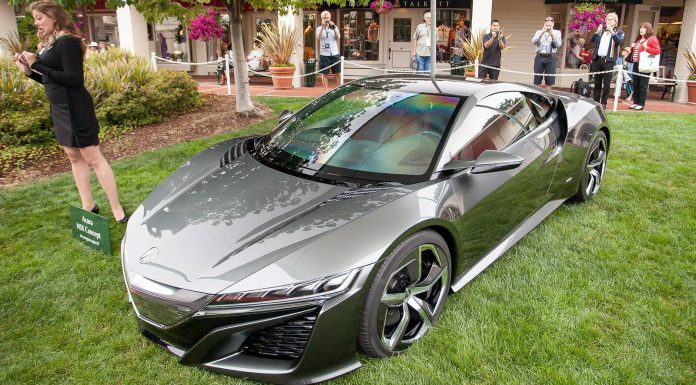 Among the various concepts on display at Pebble Beach this year, we found the Acura NSX! Resting on the concept lawn, the Acura NSX looks pretty awesome spread among the various other display cars. We first saw it during filming for The Avengers movie franchise. Philipp Lohmann took a closer look at it for us.
This version of the Acura NSX is slightly different from the version used in the film. It show minor revisions, first released in Detroit earlier this year. The 2015 Aura NSX Concept maintains a low and wide stance with edgy details, some of the styling cues resemble the Audi R8. Honda says that the newly developed cabin offers great visibility and a strong driving position with a Simple Sports Interface, which minimizes interior clutter allowing the person behind the wheel to focus on driving.
The NSX will be powered by a direct-injected mid-mounted V6 engine mated to a seven-speed manual transmission. Additional three electric motors will work together to help drive all four wheels, and to assist with acceleration and braking.