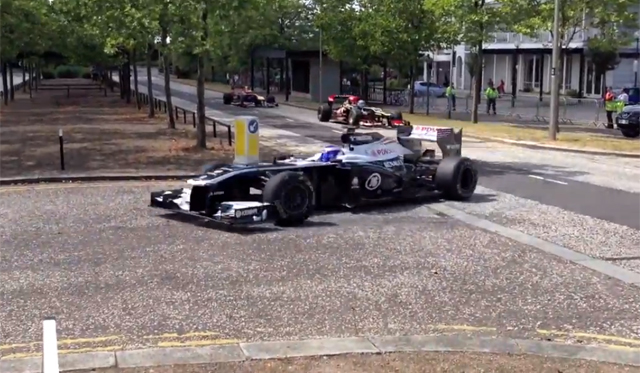 Top Gear has been spotted testing three Formula One cars around a random British road in what could be preparation for the penultimate episode of Top Gear Season 20, or an upcoming Top Gear Magazine feature.
The Formula One cars in question include one from Red Bull Racing, one from Williams as well as team Lotus. Behind the wheel of the Red Bull was Felix da Costa, Nico Prost was driving the Lotus while the Williams was piloted by Susie Wolff.
When it comes to what Top Gear is filming, we simply have no definite idea. However, all three of these Formula One cars feature Renault provided engines and a number of Renault road cars can also be seen on the small road. So is it possible that Top Gear is planning a race between three Formula One cars and Renault road cars around an extremely small circuit? It's certainly not out of the question. Or could it possibly be a test to showcase whether or not Formula One cars can be daily driven on the road with Richard Hammond, Jeremy Clarkson and James May pretending to be driving the racing machines?
Another oddity with the following video is that no official camera crews can be spotted filming the events.
If you have any ideas about what's going on here, please let us know!