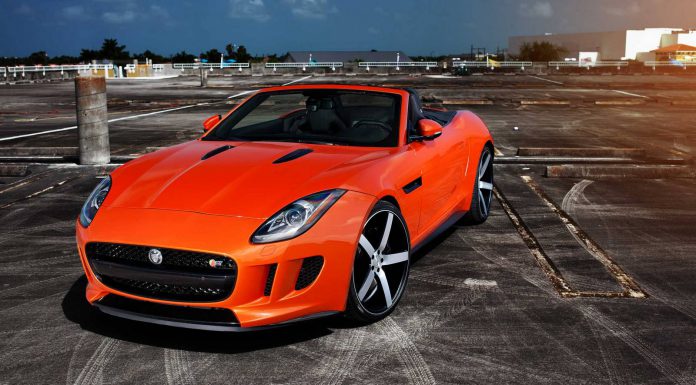 The Jaguar F-Type V8 S hasn't been on the market very long and one Florida owner has already decided to separate their F-Type from the pack fitting it with a unique set of Vossen aftermarket wheels.
For most, the eye-catching orange paintwork would be enough to help you stand out in the crowd, but the addition of Vossen's five-spoke CV3 wheels with brushed faces makes this Jaguar F-Type V8 S just that little bit more outlandish and special.
The V8 S is the daddy of the F-Type range. It gets the same familiar 5.0 litre Jaguar unit as we have seen in cars like the Jaguar XKR, XFR and XJ Super Sport. It is slightly detuned for the F-Type, producing 495hp rather than the 510hp we have become accustomed to. Yet the F-Type is a lighter, smaller package and can in fact feel every bit as fast on the road. The F-Type V8 S reaches a limited top speed of 186mph with 100km/h in 4.3 seconds and 60mph in just 4.2 seconds.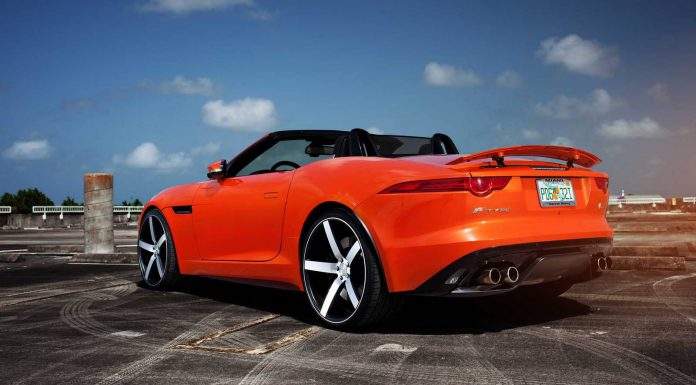 Braking is sorted through the use of high performance brakes. These measure 380mm at the front and 376mm at the rear. Jaguar haven't yet rolled out a ceramics program for their mainstream models (the exception being the Jaguar XKR-S GT recently revealed at the New York Motor Show 2013). Ceramics are not particularly needed here though. The high performance braking system feels very secure with enough of a bite to stop the car from any speed. Despite some very spirited driving on our recent GTspirit test of the Jaguar F-Type V8 S, we never felt any fade.