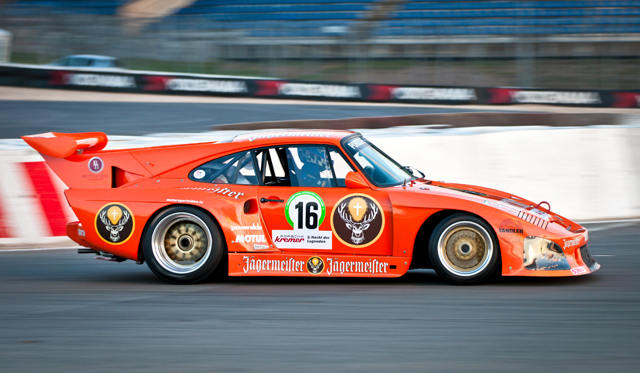 The recent edition of the Eifelrennen at the Nürburgring featured a wide variety of cars. One of the highlights, besides the Group C racing cars, were the many Kremer-Porsches which entered the circuit on the evening of Saturday June the 15th.
Kremer Racing is a well known and successful motorsports team. The Cologne-based Porsche specialist was founded by the two brothers Erwin and Manfred in 1962, who were preparing and racing with Porsches. Kremer was the first team to enter the Porsche 911 in international races and soon the Germans were upgrading Porsches for other race teams as well, resulting in a string of victories around the world.
One of their most spectacular, powerful and successful creations is the K3, a more muscular variant of the Porsche 935 and winner of the 24 Hours of Le Mans in 1979. Dressed in iconic Jägermeister livery, the 800 horsepower Kremer K3 was one of the biggest stars of the Eifelrennen. In addition to this great car the line-up featured Porsches — almost all tuned by Kremer — like the 356, all sorts of 911s, 906, 928, 935 and even a KMW Porsche SP30 which was modeled after America's Can-Am series. An impressive sight.