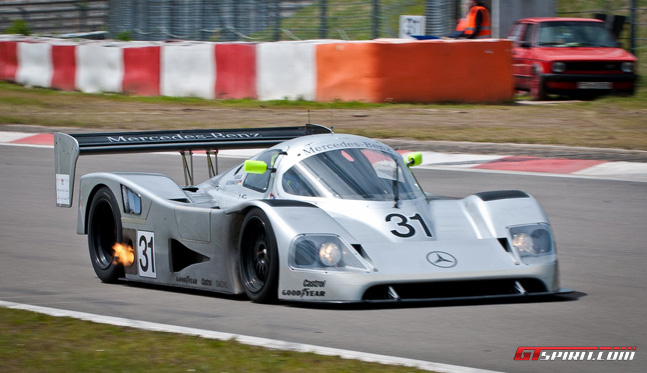 The characteristic Nürburg Castle provided a fitting backdrop for the annual Eifelrennen, which were held at the legendary racing circuit in Germany in the weekend of from the 14th until the 16th of June. Many people found their way to the Nürburgring to see and hear a wide variety of racing cars — ranging from the dawn of motoring to modern day supercars.
One of the most spectacular series to hit the track were the Group C racing cars. This category of endurance racing was quite popular in the Eighties and mid-Nineties. When the 600 hp-plus V8s and V12s sports-prototypes reached speeds of more than 400 km/h at Le Mans, the FIA was forced to restrict the performance of cars and thereby eventually contributing to the series' demise. The final year for Group C came in 1993, but in its ten years of existence its produced some of the most spectacular and fastest racings cars ever made.
Many Group C cars were present at the Eifelrennen, but it was the Mercedes-Benz C11 which drew the most attention. Built by Sauber and powered by a Mercedes 5.0L twin-turbo V8, the futuristic silver arrow dominated the 1990 World Sportscar Championship season. One of Mercedes' drivers in those days was the young Michael Schumacher.
Another famous and even more successful Group C car was the Porsche 962, which became one of the most dominant cars in motorsport with a multitude of victories, including the World Sportscar Championship title in 1985 and 1986, the IMSA GT Championship every year from 1985 to 1988, the 24 Hours of Le Mans in 1986 and 1987 and reworked as Dauer 962 once again in 1994. Two 962s attended the Eifelrennen, started in the race on Sunday but only one managed to finish as the other was plagued with some technical issues.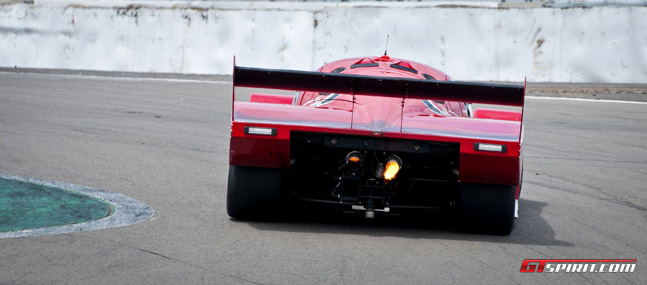 Also struck with issues was the Jaguar XJR16, but sadly the British racing car blew up its engine during practice on Saturday and didn't start on Sunday. Not on track, but parked in the paddock was a Lancia LC2, or better known as Lancia-Ferrari due to its engine built by the Prancing Horse from Maranello.
Other sports-prototypes at the Nürburgring were the Nissan R90CK and some cars built by privateers like the three by Spice Engineering, the Cheetah CT606, and Veskanda C1. Perhaps not as famous or successful as their counterparts from Mercedes or Porsche, but still great to see and hear.