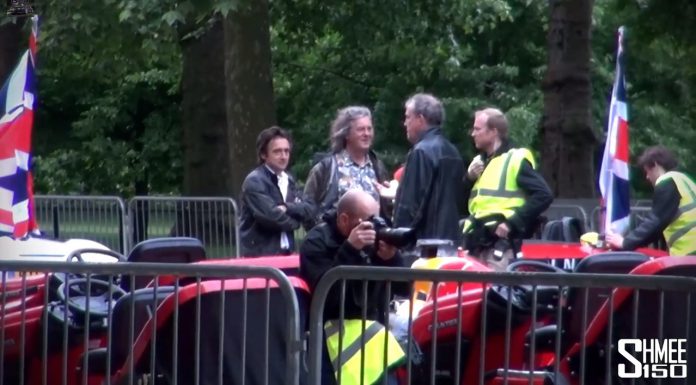 It looks as though the Top Gear presenters were busy in London this morning preparing to filming for the upcoming season 20. Shmee150 caught a massive grid of British metal queuing up on the Mall, ready to drive past Buckingham Palace (or perhaps just for a simple photoshoot!). It looks as though the piece is being filmed to support a segment on the brand new Jaguar F-Type.
Taking pride of place at the front of the Top Gear Best of British parade is the brand new McLaren P1 alongside the Red Bull Formula 1 car (based in Milton Keynes) and the Rolls-Royce Wraith. Any front-row lineup would not be complete without the Jaguar E-Type which appears to be on the far side.
Further back in the Top Gear Best of British parade we spot everything from the London Taxi to the Bentley Continental GT3. There are lawnmowers, MINI's, an Aston Martin One-77, Nissan's (which are built in the UK), new Range Rovers, Lotus, Ariel's, Noble's, Ginnetta; even a Jaguar Hearse! If you watch until the end, you'll even see the Bloodhound SSC!
We'll have to wait until Season 20 starts to view the final cut of the Top Gear Best of British parade!