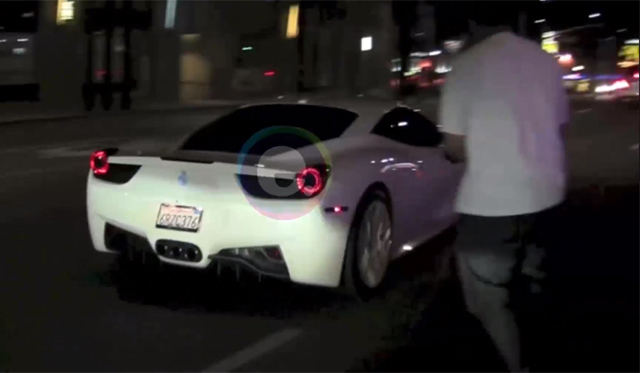 After recently been questioned for speeding multiple times in Dubai in a Lamborghini Aventador and after being confronted by a neighbour for speeding in his gated community, Justin Bieber is in trouble yet again and it unsurprisingly involves his white Ferrari 458 Italia.
When leaving a comedy club, Justin Bieber entered his unique Ferrari 458 Italia surrounded by a hungry-pack of paparazzi and when driving off from the scene he hit a photographer and fled. While such an incidence could be classified as hit and run, Justin Bieber was cleared of any wrongdoing because he was apparently unaware that he had hit anyone when leaving the club.
What's more, the entire incidence was filmed by a fellow photographer on Sunset Boulevard where the incidence took place. At the time of the incident, Bieber's controversial friend Lil Twist was in the passenger seat with him.
http://www.youtube.com/watch?feature=player_embedded&v=9u4Iwzwy2W8#!
The male who was hit was taken to the hospital but wasn't seriously injured. Upon investigating the event where police investigated Bieber himself and the numerous witnesses, the LAPD determined that it was the fault of the photographer who reportedly "jumped in the street in front of the car" and not Bieber.
While Bieber has been cleared of any possible charges, from the following video it comes as a surprise that he reportedly was unaware he hit anyone, as the photographer hit was thrown down on the bonnet and the door of the car.