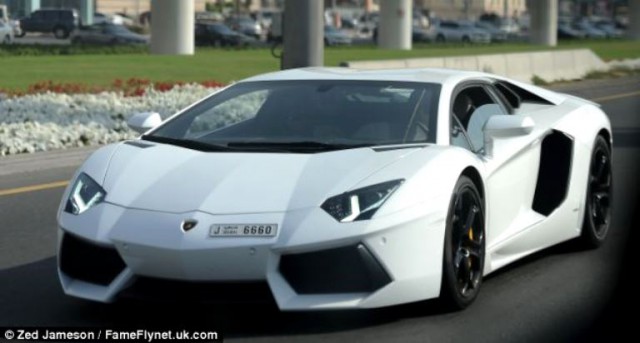 Justin Bieber has been on both automotive news and entertainment news (where he belongs) and for all the wrong reasons; starting with lashing out at the paparazzi and photographers to the latest of being pulled over by police in Dubai for over speeding. The megastar is on a world tour to promote his Believe album, the incident happened in the Dubai tour which precedes the South African tour.
Our source over at Daily Mail says that Justin was in a borrowed white Lamborghini Aventador, since he is two years less of the age allowed to rent a car in the Emirate. But for someone like him, the wealthy kids of Dubai must be very kind to allow him drive their cars in any given time. He managed to set off six cameras along the Sheikh Zayed Road, the 19-year old is definitely playing bad boy.
Speeding in an Aventador is not much of a big deal in Dubai, it's the same case as speeding in a Ford while the police car is also a Ford, and in this case, the Dubai Police have recently acquired an Aston Martin One-77, Lamborghini Aventador and a Ferrari FF all as police cars.
In the photos shared online, Justin is seen to be in a "bad boy" look-hat, hood and shades on cruising in a white Lamborghini Aventador, from his 12,000 pounds a night Royal Suite at the Burj Al Arab hotel. But just like any other teenager, Justin must be in love with sports car, he was seen in another white DMC Lamborghini Aventador Molto Veloce some time back and he has owned a chromed Fisker Karma and a white Ferrari 458 Italia.
With the South African tour coming up, another hotspot city for sports cars, Justin may be lucky to get pass most restrictions such as drinking alcohol which he was denied while in a Dubai nightclub, he might also enjoy South Africa better since the norms are more globally accepted unlike in the Middle East, in Oman, he was banned from performing after being deemed "too sexy"