After recently adding a Lamborghini Aventador, Ferrari FF, Mercedes-Benz SLS AMG GT and Bentley Continental GT to its police fleet, new pictures have emerged suggesting that the Dubai Police force is now set to add an Aston Martin One-77 to the lineup too.
The pictured example was recently spied at the same garage that held the aforementioned Mercedes-Benz SLS AMG and Bentley Continental GT whilst being outfitted with the Dubai Police livery. Adding an Aston-Martin One-77 to its police fleet would obviously send it into a completely new stratosphere as it would be by far the rarest supercar the Dubai Police, or any other police force, has in operation.
Making this particular Aston Martin One-77 even rarer is the fact that it's one of just the seven making up the Q-Series One-77 which sees a selection of new interior and exterior features. As a result, buyers paid more for these Aston Martin One-77's than any other. Powering the Aston Martin One-77 Q-Series is the same 750hp 7.3-liter V12 engine of the standard car. If this insane trend continues, then we wouldn't be surprised if the Dubai Police eventually recruits a Bugatti Veyron to the force!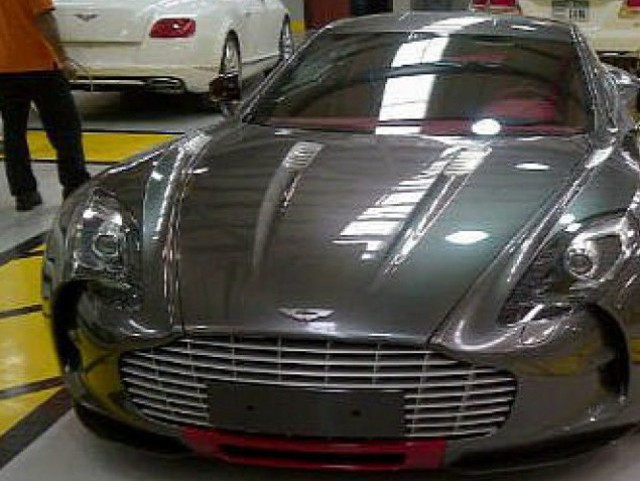 A bit of research indicates that this car is currently still listed for sale at Al Ain Class, a popular Dubai-based supercar dealership. It was one of a pair listed for sale in the gulf. Time will only tell if the latest story has any substance to it. Enjoy the gallery of Dubai's luxury police fleet we created above.
The rumours appear to have been confirmed though as sources suggest the entire Dubai Police exotic fleet will be unveiled at the Arabian Travel Market 2013 tomorrow!
UPDATE: The first picture (now in our header) has emerged from the event!