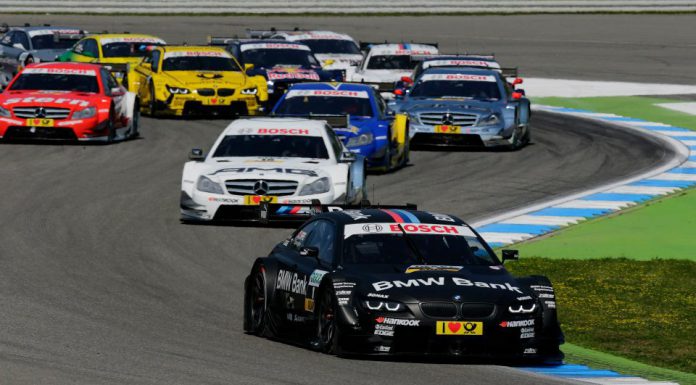 After a successful 2012, breaking the Mercedes and Audi stronghold, BMW seems to have truly mastered the art of winning DTM races. They emerged victorious in today's season opener DTM race at Hockenheim. The result seemed assured after they set the pace during pre-season testing at the very same location. Drivers covered over 8,000km's during the pre-season leading BMW to today's victory.
Today, it was Augusto Farfus who took first place followed by another BMW driven by Dirk Werner. The race was interesting seeing that Farfus had started on the newly introduced option tires. He carefully managed his DRS to snatch the lead from the ABT Audi on lap six. With the safety car on track by lap 7, Farfus spent the middle section of the race out of position while negotiating a different set of tires. He overtook Danie Juncadella for fifth spot before taking the lead when the cars ahead pitted.
His teammate Dirk Werner stole the show too. He started in 20th position and ran an ultra-long middle stunt on option tires before finishing second. These two BMWs lead two Mercedes cars driven by Christian Vietoris and Gary Paffett who came third and fourth respectively. Vietoris had earlier on dropped from 3rd to 11th on the opening lap but used a similar strategy as Werner by passing Paffett on the final 10 laps making it to the podium for the first time just like Werner.
Timo Scheider was the best placed Audi at position 6. The other ABT Audi, driven by Adrien Tambay's, retired after smoke plumes emerged from the engine. The safety car ended Timo's hopes of snatching a win. He had to stay out for one extra lap compared to his rivals and dropped to 19th. The time sheet below shows that Audi had a truly rough day, unlike their recent experience with the FIA WEC where they are enjoying a winning streak from the Audi R18 e-tron quattro.
Results after 42 laps:
Pos Driver Team/Car Time/Gap
1. Augusto Farfus RBM BMW 1h10m11.583s
2. Dirk Werner Schnitzer BMW + 3.692s
3. Christian Vietoris HWA Mercedes + 9.675s
4. Gary Paffett HWA Mercedes + 12.613s
5. Bruno Spengler Schnitzer BMW + 13.212s
6. Timo Scheider Abt Audi + 13.753s
7. Joey Hand RBM BMW + 14.100s
8. Mike Rockenfeller Phoenix Audi + 14.477s
9. Marco Wittmann MTEK BMW + 17.894s
10. Roberto Merhi HWA Mercedes + 19.537s
11. Pascal Wehrlein Mucke Mercedes + 20.902s
12. Daniel Juncadella Mucke Mercedes + 26.169s
13. Martin Tomczyk RMG BMW + 30.904s
14. Jamie Green Abt Audi + 41.166s
15. Miguel Molina Phoenix Audi + 43.535s
16. Filipe Albuquerque Rosberg Audi + 54.077s
17. Andy Priaulx RMG BMW + 2 laps
Retirements:
Mattias Ekstrom Abt Audi 28 laps
Edoardo Mortara Rosberg Audi 21 laps
Timo Glock MTEK BMW 17 laps
Robert Wickens HWA Mercedes 5 laps
Adrien Tambay Abt Audi 4 laps