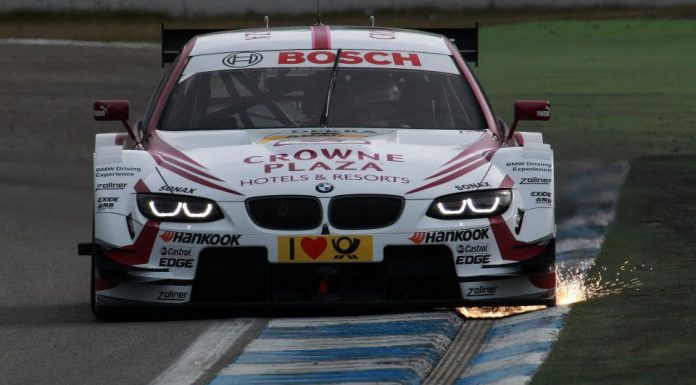 DTM Test Days at the Hockenheim came to an end after four days of pure testing with the teams being BMW, Audi and Mercedes-Benz and yet again it's BMW who emerged victorious, the BMW team won the championship last year. The big day will be on May 5 when the race shall take place, opening for the next 10 races to come for the 2013 season. The test saw the drivers drive through 8000 kilometers on the same venue.
As for BMW, rookie Augusto Farfus made the big win after beating last year's champion Bruno Spengler by 0.213 seconds where he set a time of 1:32:976. Farfus managed to do 115 laps on the final day while Bruno did 91 of them, the champion said;
The weather played a major role in this test. It alternated between rain and dry conditions, it is always beneficial to be able to complete a few laps in the wet, of course, but we would really have preferred more consistent conditions to allow us to prepare for the new season. Despite this, the overall impression is a positive one.
BMW took position 1, 2 and 3 while Mercedes-Benz came fourth and fifth with Christian Vietoris and Pascal Wehrlein respectively before allowing Audi to come in six with the Phoenix RS5 driven by Mike Rockenfeller.
Pos Driver Car Time Gap
1. Augusto Farfus RBM BMW 1m32.976s
2. Bruno Spengler Schnitzer BMW 1m33.189s + 0.213s
3. Timo Glock MTEK BMW 1m33.320s + 0.344s
4. Christian Vietoris HWA Mercedes 1m33.453s + 0.477s
5. Pascal Wehrlein RSC Mucke Mercedes 1m33.582s + 0.606s
6. Mike Rockenfeller Phoenix Audi 1m33.630s + 0.654s
7. Andy Priaulx RMG BMW 1m33.715s + 0.739s
8. Robert Wickens HWA Mercedes 1m33.844s + 0.868s
9. Filipe Albuquerque Rosberg Audi 1m33.897s + 0.921s
10. Mattias Ekstrom Abt Audi 1m34.370s + 1.394s
11. Timo Scheider Abt Audi 1m34.922s + 1.946s