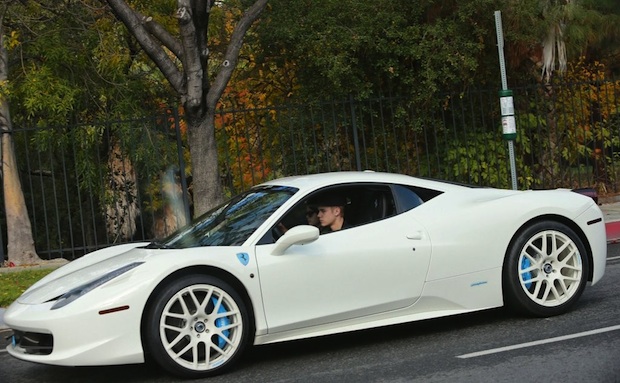 Justin Bieber is in the news for all the wrong reasons again just a few weeks after being questioned over speeding in Dubai, and surprise surprise, Bieber's latest run-in with the law involves speeding.
According to reports, the teenage Canadian-born pop sensation is being investigated for reckless driving after witnesses claim he was speeding through his Los Angeles gated community in his white Ferrari 458 Italia. The gated community has a speed limit of just 25mph, and witnesses on the scene claim that he was travelling at highway speeds through his local streets.
However, it doesn't stop there because ex-NFL player Keyshawn Johnson was so upset to see Bieber speed past him and his three-year-old daughter, that he jumped in his Toyota Prius and chased down the Canadian star before arriving at Bieber's house. However, when confronted with the 6 foot 4 inch Keyshawn Johnson, Bieber quickly went into his house without saying a word.
When police responded to the calls and approached Bieber's mansion, they were turned away.
Police spokesman Steve Whitemore said, "Their eyewitness testimony to our deputies was definitive, not only the speed, not only the vehicle, but Bieber was sitting and driving in the driver's side seat.
"We take this very seriously and if this actually did occur, which it appears that it did, it is unacceptable behaviour from anybody, anywhere, anytime," he said.
[Via Independent]