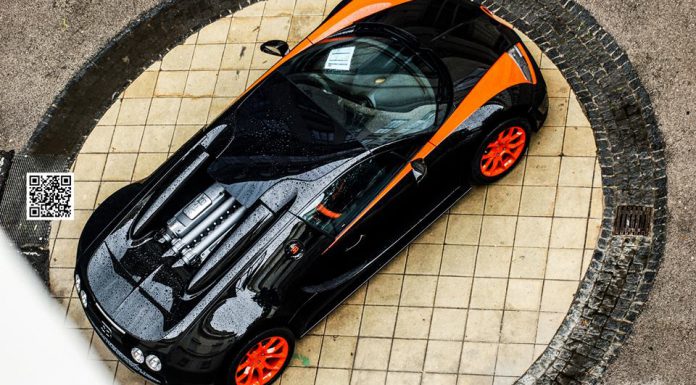 The Bugatti Veyron Grand Sport Vitesse World Record Edition recently visited the Vienna University of Technology. The car is one of eight units built under the World Record Edition theme, similar to the Bugatti Veyron Super Sport with black and orange color scheme. The side sills proudly display the Vitesse 408.84km/h top speed and a signature.
On April 6, the Vitesse set the world speed record for open-top production sports cars at the Volkswagen Group's proving grounds in Ehra-Lessien. It recorded a 408.84 km/h or 254.04 mph top speed, driven by Chinese entrepreneur and passionate race driver Anthony Liu. Only eight will be made at each will cost 1.99 million euros.
In Vienna, Austria, the Vitesse was shown during a visit by Dr Ferdinand Piëch, chairman of the supervisory board at Volkswagen group. He was there to give a lecture on Innovation Management II. He visits Vienna every year for the lecture as it takes place in his home town.
The Bugatti Veyron Grand Sport Vitesse is based on the Bugatti Veyron Grand Sport and it uses an 8 liter W16 engine, which delivers 1,200hp and a torque of 1,500Nm at 3,000 to 5,000 rpm. The increased power of the new roadster's 16-cylinder engine is made possible by the four enlarged turbochargers and intercoolers. The chassis of the Bugatti Veyron Grand Sport Vitesse has also been modified to support the power increase.
[Video credits: Supercars of Austria]