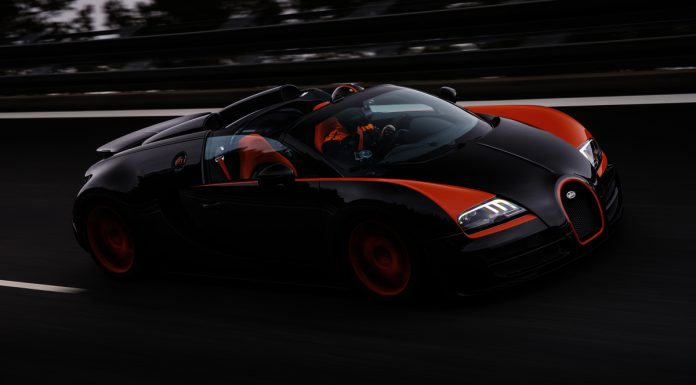 The Bugatti Veyron Grand Sport Vitesse premiered as the fastest roadster in the world but this was only at a speed of 375 km/h which is too shallow for Bugatti. Latest reports from the Molsheim-based supercar manufacturer Bugatti confirmed officially that the Vitesse has set the world speed record for open-top production sports cars at the Volkswagen Group's proving grounds in Ehra-Lessien recording 408.84 km/h or 254.04 mph driven by Chinese entrepreneur and passionate race driver Anthony Liu.
The world record edition Vitesse will be unveiled to the world for the first time at the Shanghai Auto Show 2013. The car will feature the same colors as the Bugatti Veyron Super Sport WRC, in that regard, Dr. Wolfgang Schreiber, President of Bugatti Automobiles S.A.S. said;
When we introduced the Vitesse, we established the top speed for open-top driving to be 375 km/h. Still, we could not let go of the idea of reaching the 400 km/h mark with this car as well. The fact that we have succeeded in reaching 408.84 km/h is a thrill for me, and it reaffirms once again that Bugatti is the leader when it comes to technology in the international automotive industry.
This news comes shortly after Bugatti had the title of world's fastest snatched from them by the Guinness World Records who declared it invalid after they were accused of deactivating the speed limiter during the setting of the record back in 2010, which was a good-fast 431.072 km/h. Bugatti has proudly redeemed itself again with the Vitesse.
Just a recap, The Bugatti Veyron Grand Sport Vitesse is based on the Bugatti Veyron Grand Sport and it uses an 8 liter W16 engine, which delivers 1,200 PS and a torque of 1,500 Nm at 3,000 to 5,000 rpm. The increased power of the new roadster's 16-cylinder engine is made possible by the four enlarged turbochargers and intercoolers. The chassis of the Bugatti Veyron Grand Sport Vitesse has also been modified to support the power increase.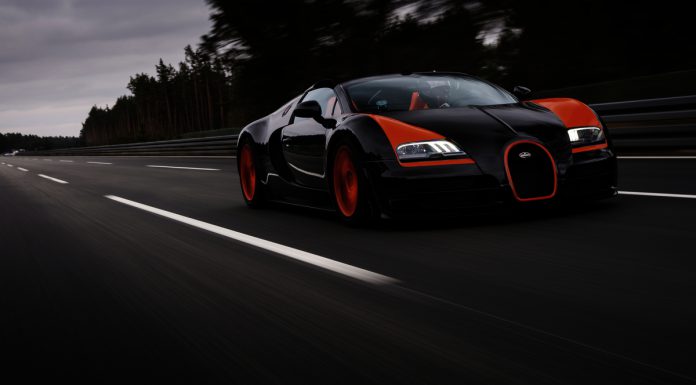 This special Bugatti Veyron 16.4 Grand Sport Vitesse will be available in a World Record Car (WRC) Edition, which is limited to eight vehicles which will cost 1.99 million euros each inclusive of tax!