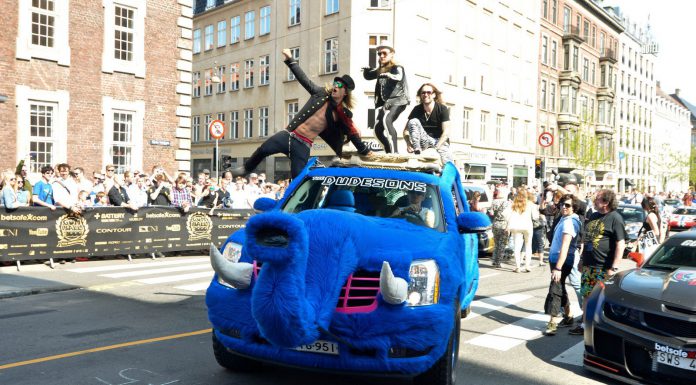 This is a new gallery of shots from Copenhagen comprising of the Gumball 3000 cars right before they embarked for the race earlier this morning. It follows our earlier Part 1 of the same and also behind the scene photos. The day was really overwhelming as Gumballers brought out their cars in Copenhagen, allowing residents, car enthusiasts and carparazzis to have a fair share of their glimpse!
These shots were taken by Christian Kopmann Same cars that we have announced in the last few days, beautiful wraps on the cars among them being Aston Martin, Lamborghinis, Ferraris, a VW Beetle and of course Team Galag Batman Tumbler and the TG1 supercar. Team Wolfpack was also representing their Audi R8 at large.
One of the bewildering activities that come along with the Gumball 3000 is the car wrappings. Different car wrapping specialists get to showcase their skills and perfection. This year's rally is not different, starting with pink wraps, blue metallic, green, military and even national flags wraps as you can see from the photos.
This ultimate road trip for sports lovers will involve 3000 miles of pure driving fun accompanied by exciting activities including parties and concerts which will be spearheaded by some of the world's best celebrities. Gumball has been known for its power to attract luxury sports cars and supercars. The 100 cars will set off of their 3000 mile road trip to Monte Carlo the following day on May 19 which will be on a Sunday.
Over the following 6-days the route includes overnight stops, parties, music concerts, car displays and checkpoints in Stockholm (Sweden), Helsinki (Finland), St.Petersburg (Russia), Tallinn (Estonia), Riga (Latvia), Vilnius (Lithuania), Warsaw (Poland) and Vienna (Austria) before crossing the finish line in Casino Square from 21:00 on the evening of Friday 24th May in Monte Carlo (Monaco).
Among the special appearances will be hip hop superstar EVE, Cypress Hill's DJ Muggs, rapper Bun B, 'Pimp My Ride' host Xzibit, skateboard legend Tony Hawk, MTVs Finish pranksters 'The Dudesons', Olympic skiers Jon Olsson and Jens Byggmark, MMA fighter Rubert Burneika and even TV stars.