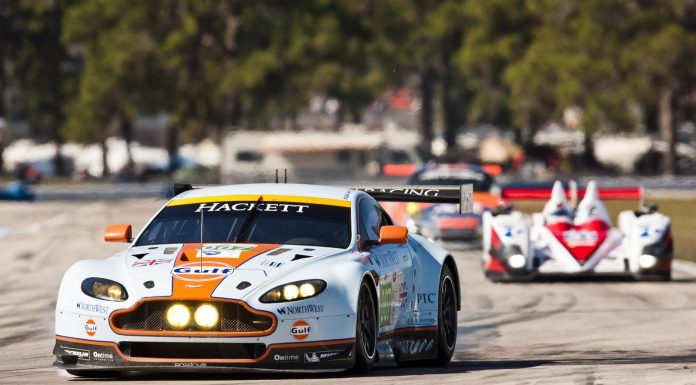 Aston Martin has qualified third and fourth at the 12 Hours of Sebring qualification race and will start at those positions later when the race kicks off today. Aston Martin's new #97 Vantage GTE qualified in third place setting out a time within 0.2 seconds of the pole-winning lap. The #007 2012-specification Vantage GTE qualified fourth in the GT class.
The qualification was a 15-minute session and in the #97 Aston Martin Vantage GTE was Aston Martin Racing factory driver Stefan Mücke (D) who managed his fastest lap with a time record of 1:58.990 while his counterpart Pedro Lamy (PT) in the #007 Aston Martin Vantage GTE did the same in 1:59.208.
This is what the drivers had to say;
Stefan Mücke comments:
We're here at Sebring to prepare the new car for the FIA World Endurance Championship. This week has been a very promising start to the campaign but there's more to get out of the car, for sure.
Pedro Lamy:
I got a nice clear run at the best moment of the tyres. I was getting faster each lap but then the session ended. The car feels good and the team did a great job. The car is not quite as quick as the #97, but our set-up work this week has made it incredibly good to drive around the Sebring International Raceway.
Remember, Aston Martin Racing will run two Vantage GTEs in the American Le Mans Series season opener in the GT class. The 2013-specification #97 car will be driven by factory drivers Darren Turner (GB) and Stefan Mücke (D) alongside new signing Bruno Senna (BR), while the #007 Vantage GTE will be driven by Aston Martin Racing newcomers Billy Johnson (US), Pedro Lamy (PT), and Paul Dalla Lana (CA).