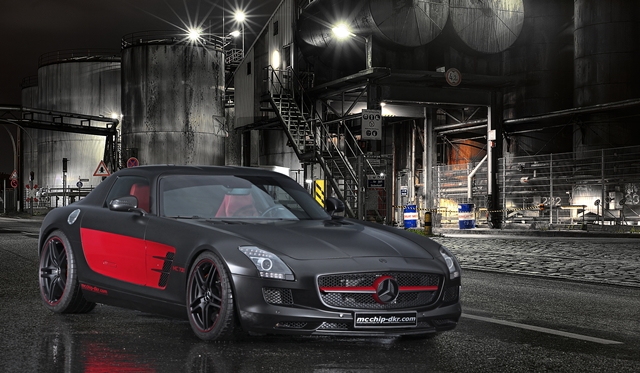 The Mcchip-DKR team in Mechernich-Obergartzem, Germany created a supercharger kit for the Mercedes-Benz SLS AMG, which received the internal name "MC700". The result of the new MC700 compressor kit is available in two upgrade levels.
The first one includes a Capristo exhaust system and a mechanically driven compressor. These additions get the 6.2 liter naturally aspirated V8 engine's power level up to 680hp and 770Nm of maximum torque. The price of this first upgrade stage is 69,900 Euros.
The second upgrade level will only be available for the export versions and include additional sports catalyzers and stage 4 software. If a customer is willing to pay 78,999 Euros, then they will be privy to a total of 706hp and 793Nm maximum torque.
Additionally to the impressive power-update, the body is foiled in matte grey with red applications from CoverEFX.