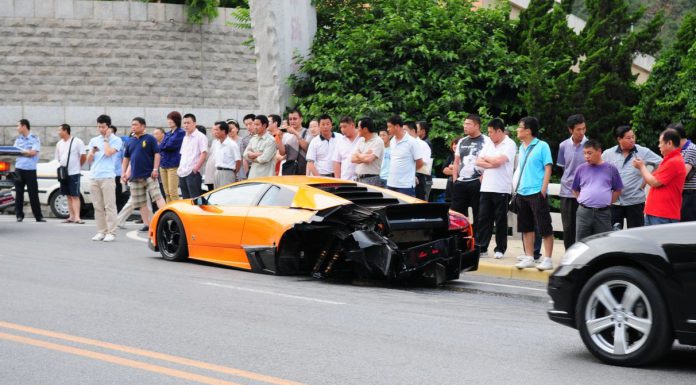 The Lamborghini Murcielago LP670-4 SV is a rare commodity, even in China! Officially, 350 were produced, however, many suspect that the true number is even less. China got its own version of the car too; the LP670-4 SV China Limited Edition, limited to ten copies. It seems that the SV design is now popular with previous generation Murcielago owners. Unfortunately, this example was involved in an accident recently.
We think that this particular Lamborghini Murcielago was fitted with a Premier4509 body kit. It features a full front bumper with a boxed bumper support system, side pods and a rear bumper with optional adjustable rear spoiler. What really gives this particular example away is the gloss black finish to the aftermarket parts.
Unfortunately it appears a bit of a state in our pictures. Its missing the rear spoiler and several body panels. The rear wheel has been severed completely and the engine appears to have lost vital fluids.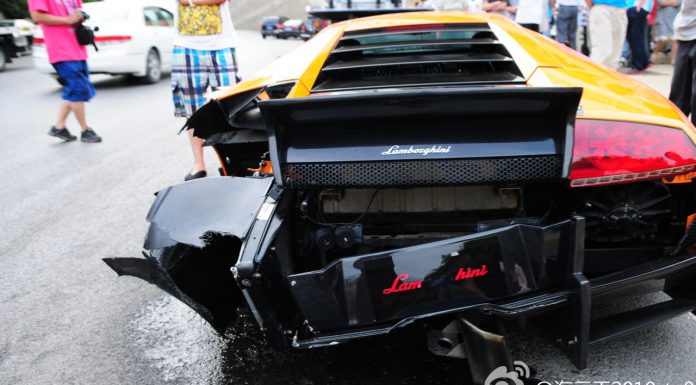 We have limited details on how the accident happened. It appears obvious that a collision occurred. We're told that the the Murcielago came round a corner too fast and collided with a bus, causing the buckled wheel and damaged engine.
No injuries are being reported.