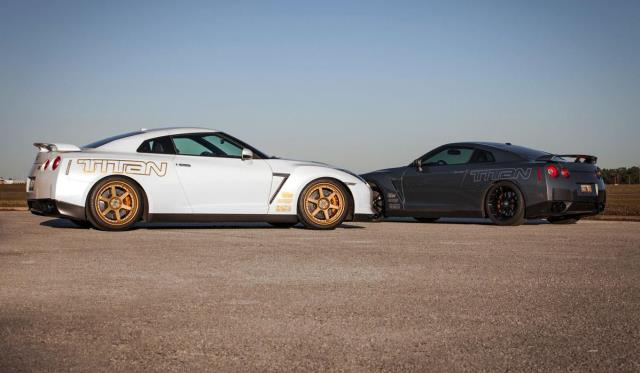 Tuner from Orlando Titan Motorsports recently finished on a project based upon two Nissan GTRs belonging to Eric Kerwin and Nero Deliwalas.
They installed Speed By Design intakes, midpipe, downpipe and exhaust. They also added a set of Speed By Design upgraded fuel pumps and Injector Dynamics ID1000 injectors before tuning the car with a custom Titan Motorsports tune delivered through the Cobb Access Port.
Eric's car was designed around delivering basic performance upgrades that any GTR owner can have installed in a weeks-time or less providing for significant improvements in all aspects of the vehicle without sacrificing the ability to be daily driven. Nero's gray GTR current features a nearly mirror image of the upgrades to Eric's car but will be undergoing the tuning soon as it will get a fully built complete with the Titan Motorsports Stroker kit, upgraded turbos and fuel system.
Onto the wheels, Eric's GTR who is also the Sales Manager at Titan features the first set of HRE's new C106S, a conical version of their new six- spoke 106 wheel. The wheels are finished in a unique matte gold center and gloss gold lip to provide extra contrast against the brilliant pearl white paint. The wheels are then wrapped in Michelin Pilot SuperSport tires in 285/35/20 335/30/20 sizings.
The car was lowered using KW's sleeve coil over kit which as part of the suspension system which allows the ride height to be adjusted while maintaing the factory electronic suspension controls. They also installed the popular Titan Motorsports Bolt in GTR roll bar to keep the car legal at the track.