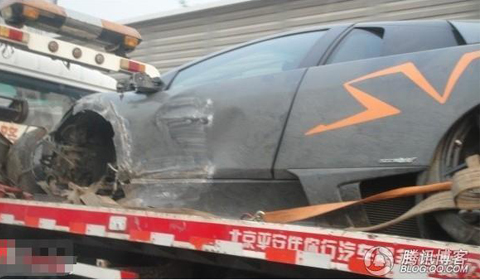 Pictures of the first crashed LP670 SV 'China Edition' (4th SV) have emerged online. The pictures show the China Edition being transported on a transporter with front end and rear suspension damage.
It is reported that this special edition SV was crashed around 16:00hrs local time on the 6th of June. It is alleged that the crash happened on China's national Highway 101, in the Miyun district of Beijing. The SV was reportedly going 180km/h when it left the road and struck trees before coming to rest 100 meters further down the road. Fortunately there where no pedestrians on the pavement when it left the road.
Both occupants of the SV are said to have emerged unscathed from the crash despite neither wearing seatbelts.
Via xian.qq.com