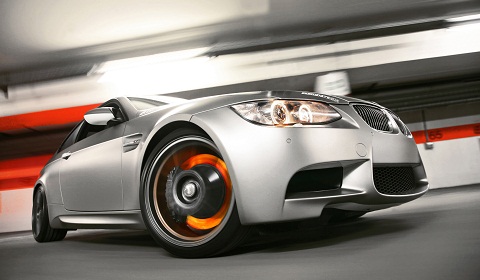 The focus for this tuning project is pretty simple, to build a BMW M3 worthy of the track. One of the complaints readily leveled against the latest M3 is its sheer weight. With no M3 CSL on the horizon, owners are increasingly looking to tuning companies to transfer the M3's excellent dynamics to the track.
To start with the power, Collaction AG from Widnau have been bought in to release an extra 30bhp from the V8. Torque increases by 40Nm with total bhp now at 450.
Overall, the Stoptech brake system saves 8kg, the new alloys save 1.5kg per wheel and the exhaust system saves 23kg. A grand total of 37kg. Whilst this may not seem a great deal, we have to remember the minimal measures that have been taken. Just three simple adjustments have helped make this weight loss possible!
The brake system is a Stoptech STR unit. Manufactured from forged aluminum, the anodized six-piston calipers measure 380x35mm at the front axle with four-piston, 355×32 disks at the rear. The alloys can be customised from the APP range, this car sits on ATS "Racelight" alloys in 19 inches with Michelin Pilot Sport 2 High Speed Tyres. The exhaust system is the Akrapovic titanium evolution system.
It is possible to install KW club-sport chassis components too. Overall, we think it is a subtle kit that could go some length to making the car look and feel the part at track days. To find out more, contact APP-Automotive though their website.