More Mazda's are road-raced every weekend than any other car, or so the saying goes. It is an apropos saying for my trip to one of the greatest racing circuits in the world – a circuit I would be driving on for the first time ever, in my first pure-bred racing car ever.
It is at Laguna Seca, a circuit tucked away in the rolling hills above Monterey, California, where the Skip Barber racing school calls home. It is at this school where some of today's best professional racing drivers began their journey to the pinnacle of every boy's childhood dream. Drivers like Juan Pablo Montoya, Scott Speed, Andy Lally all have the honor to call themselves alumni alongside hosts of others, including innumerable NASCAR and world-class GT drivers.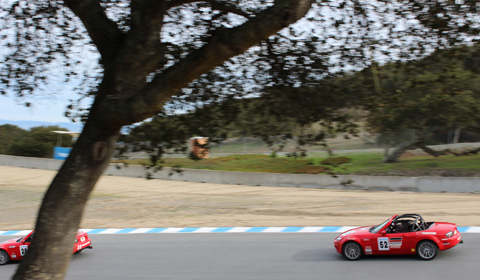 Laguna Seca is truly a magical circuit. Unlike many of the modern Tilke designed tracks, Laguna Seca was opened in 1957, using all the natural contours of the hills it was built on, and then some. The corkscrew, admittedly, was a bit daunting to go through at speed for the first time. Something I don't think anyone would be afraid to admit. It is very much a 3rd gear track. Both the Skip Barber single seater and Mazda MX-5 could very easily be driven around in 3rd or 4th with very little effort – don't expect fast lap times, though. Learning the dynamics of a race car, at a track like Laguna Seca, seems one of the best places to do so. The variety of corners, coupled with truly massive elevation change thrust you into the deep-end in terms of car control and vehicle dynamics. The dynamics being explained in thorough detail by our instructors.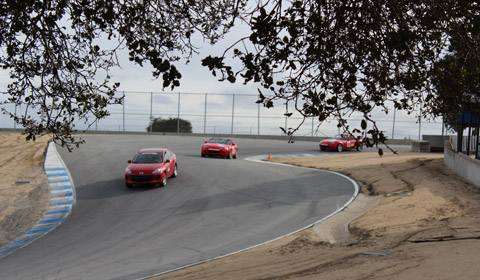 Skip Barber programs range from an exhaustive 3-day racing school to the program we opted for – the compressed, yet informative, 1-day school. "All the cars of the 3-day school, but with the excitement of doing it all in one day," as our lead instructor so aptly put. The demographics of our class ranged from the most professional of race drivers taking the class to simply "learn the circuit" to the most untrained, lucky enough to be enjoying the class as part of a generous birthday present.
To anyone who has done any track day, or driving school of any sort, the day begins much like you would expect – in the classroom. A necessity for anyone not familiar with the circuit or the cars. And none of us were. Mazda provided road cars were the order of the morning. The MX-5 Cup car, to be exact. Aside from a full roll-cage, brakes, seats and various electrical cut-outs necessary for safety, a showroom stock MX-5 anyone could go out and buy. And by the time we stopped for lunch, a car all of us wanted to go out and buy. With only the promise of driving a pure-bred single seat race car holding us at bay. Whoever said racing doesn't sell cars?
For the one-day school, lapping is done as such. Pace cars lead a small group of cars (generally 2-3) around the circuit, getting progressively faster and faster until the pack can no longer keep up. Slower drivers are then bunched together into slower groups, with those keen on going faster segregated to faster groups. Natural, if you think about it. Instruction was provided along the way, where needed. In hindsight, much of the lapping was in preparation for the single-seater driving later in the afternoon.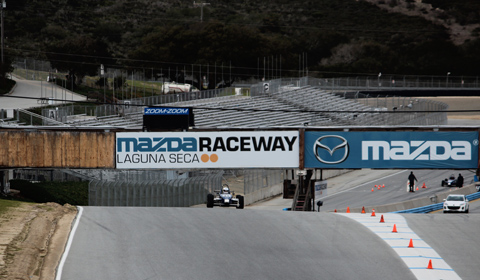 There is a fine line between bravery and brashness – a line many would come to cross as we ventured into the single seaters. Built primarily out of tube framing and covered with a fiberglass outer-shell, the single seaters were as pure-bred a race car as I had ever driven. Even the one professional driver among us had little to no experience in pure open wheel cars. The afternoon consisted of open lapping, preceded by braking and cornering drills, with the hopes that said drills would save the mechanics from repairing a severely bent race car. Remember, these cars had no power steering, no anti-lock brakes, a sequential gearbox and just enough power to lull you into a false sense of security. A sense of security that ended with more than a few trips to the gravel trap for unsuspecting students.
The initial trepidation of entering a racing school, much less one as prestigious as Skip Barber, quickly washes away to a sense of calm. A sense of purpose unlike anything else I have ever felt. An overwhelming sense of tranquility — of complete and utter focus. A focus unceremoniously broken on a few occasions by Townsend Bell, who spent most of his day sideways, scaring a select group of corporate America, who had evidently hired him.
"Fun" was on hand in bucketful's, that goes almost without saying. But it was the serenity that comes with driving a pure-bred racing car that created a high unlike any other. And in all honesty, very few of us could claim to be driving anywhere near 10/10ths, although I'm sure our stories will eventually devolve into something of the sort. Learning proper race craft is more art than it is science. It's about feel going through a corner. About hitting an apex dead center and powering out with only the smallest hint of a slide.
Weird to think that just 12 hours later, the rush of racing would be gone – replaced only by a longing to do it again. Only faster.