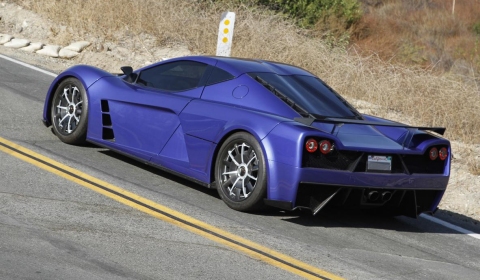 Three years after the official release of the Kepler Motors supercar we can show you a series of videos showcasing the Motion hybrid supercar in action. Since the release at the 2009 Dubai International Motor Show we haven't anything of the car, but it now seems the car has reached US roads near the factory.
Developed by Kepler Motors, founded by World Speed Record Holder Russ Wicks, the vehicle combines an all-wheel drive Dual Powertrain Technology (DPT) producing a combined 800hp. Power comes from a 550hp, modified Ford EcoBoost twin-turbo 3.5 liter V6 driving the rear wheels acting independently of a 250hp electric motor driving the front wheels. This unique AWD system launches the Motion to 60mph under 2.5 seconds with a top speed over 200mph.
The hybrid supercar features extensive use of carbon fiber composite materials for its monocoque chassis and body. The structure provides a two-seat cabin designed to accommodate drivers of above average size. StopTech's new Continuous Carbon Ceramic (C3) AeroRotors are used on all four wheels to ensure smooth, fade-free stopping power.